How Robert Downey Jr Is Helping John Boyega Prepare For Star Wars Episode VII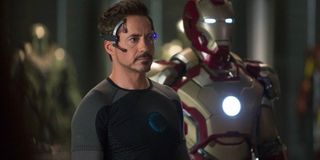 When Robert Downey, Jr. talks, people listen. That's what comes with being one of the most successful actors in Hollywood. So when Star Wars: The Force Awakens star John Boyega sat down to talk to him in preparation for the release of the hugely anticipated blockbuster, the English thespian made sure to listen. And in the process, Robert Downey Jr. taught him some lessons about how to prepare for the life changes in front of him.
John Boyega told V Magazine about the advice he received from Robert Downey Jr., and it's clear that the 23-year-old old actor immediately took stock of his peer's words. Boyega recalled:
Unfortunately for us, Boyega didn't immediately ruin his brand new bromance with the ultra cool actor by revealing any of the salacious details of what Robert Downey Jr. had to say. Which, even though it's completely understandable and would have big an absolute dick thing for him to do, is a shame. That's because Downey Jr. has been a rather big scallywag throughout his career.
Robert Downey Jr. is a recovering drug addict. He previously revealed first used marijuana at the age of six. In fact, he has admitted that he grew up surrounded by drugs. Even as his career took off and he became more and more recognisable, Downey Jr. continued to abuse alcohol and drugs, to such an extent that he was repeatedly either fired or not even hired many times because of his problem.
It's to Robert Downey Jr.'s eternal credit that he has been able to win this battle, and he is now the highest paid film star in the world, with Forbes recently revealing that he earned $111 million in the past year alone. I think we can all admit that not even Downey Jr., despite his vast talents as an actor, is worth that amount of money. That's because no-one in the world is worth that amount of money.
And while it's safe to assume that John Boyega, who has previously starred in the criminally underrated and under seen Attack The Block, won't come close to reaching that amount of wealth, he is about to become a huge star. I mean, you could tell instantly from the opening seconds of the first teaser trailer for Star Wars: The Force Awakens.
Hopefully, thanks to Robert Downey Jr.'s advice, John Boyega will now avoid all of the mistakes that the Iron Man star made in his life. Boyega will start to feel the pressure of fame increasing when Star Wars: The Force Awakens is released on December 18, 2015.
Your Daily Blend of Entertainment News
Thank you for signing up to CinemaBlend. You will receive a verification email shortly.
There was a problem. Please refresh the page and try again.