How Room Went From An Outsider To Genuine Best Picture Contender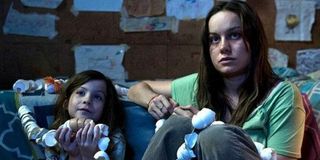 Room is truly an outsider tale that just so happens to mostly be set inside. In a depleted, harrowing interior, the love between a mother and son is the only beacon of hope, and permeates the screen and helps to make it one of the most touching and seismically powerful films of recent years.
It's almost fitting then that Room is regarded as a firm outsider for the Best Picture Academy Award at this year's Oscars. A24, with just 40 employees and 48 months of history as a production company, is clearly overjoyed with having just received a nomination, let alone at the prospect of actually winning. Their clever release of Room, coupled with the fact that Brie Larson is the clear front-runner for the Best Actress award, and the wide-open Best Picture field, means that the drama has a real chance of causing a huge upset at Sunday's ceremony.
What helps Room's cause is the fact that The Big Short, The Revenant, and Spotlight have been embraced seperately by producers, directors, and actors, respectively, which means that there's room (pun definitely intended, you're welcome) for the drama to sneak in and walk away with the gold as the other split the vote.
Unlike, Bridge Of Spies, Brooklyn, Mad Max: Fury Road, and The Martian, Room has also been championed by previous Oscar winners too. Jodie Foster and Geena Davis, as well as Sherry Lansing, the former CEO of Paramount Pictures, have each held screening parties for Room in order to simply get it seen by as many people as possible.
Meanwhile, A24's stuttered release of Room has also assisted its Oscar chances, while at the same time adversely affecting its box office haul. Currently, Room only has a gross of $18.9 million, which, when you see that it was released back in October, suggests that it's performed a little bit poorly. But, A24 has steadily looked to build buzz for the film over the course of the last 6 months.
This even started before it was released, as they teased that they had something special on their hands, which was ultimately proven when Room premiered at the Telluride Film festival. According to the New York Times, Room was then slowly rolled out from 300 to 900 theatres over the course of 13 weeks, all while it was greeted with critical acclaim and an emotional response from audiences.
What does history say about Room's chances of causing an upset? Well, it's not good, but there is precedent. On only three occasions over the last 25 years has the Best Actress been from the Best Picture winner. Just to immediately put your mind at rest this trio was Silence Of The Lambs/Jodie Foster, Shakespeare In Love/Gwyneth Paltrow, and Million Dollar Baby/Hillary Swank.
Room's main source of hope is the triumph of Million Dollar Baby back in 2004. The boxing drama surprised the world when it beat Martin Scorsese and Leonardo DiCaprio's The Aviator to win the Best Picture accolade, with most of its momentum having been created by Hillary Swank's towering display.
The same could be said of Room and Brie Larson, while the rightful chatter over the non-existent nominations for ethnic actors could see the Academy trying to correct gender inequality instead by rewarding Room. I know that probably doesn't make sense, but the Academy has a weird way of trying to right its wrongs. Just look at the amount of times an actor or director has picked up an award for a far inferior film years after they should have been rewarded for another.
Sure, going into Sunday's ceremony The Revenant, Spotlight, and The Big Short should each be seen as the more likely victors of the Best Picture gong. But if, during the ceremony, Emma Donoghue's Best Adapted Screenplay and Brie Larson's Best Actress nominations are turned into wins, Room's odds will suddenly increase remarkably, and it will suddenly become viable that the drama's fairy-tale journey from script to screen might have the most perfect ending.
Your Daily Blend of Entertainment News
Thank you for signing up to CinemaBlend. You will receive a verification email shortly.
There was a problem. Please refresh the page and try again.