10 Incredible Movies You Might Have Missed In 2015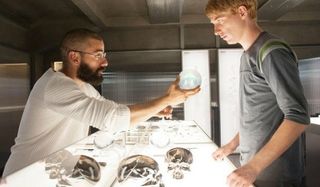 Anyway you look at it, it's been a fantastic year for cinema. Mad Max: Fury Road, Mission: Impossible -- Rogue Nation, Star Wars: The Force Awakens, and even Furious 7 made sure that audiences going to see blockbusters were constantly enthralled, while Inside Out, The Hateful Eight, and Sicario proved that there was still room for originality too.
There are always some films that slip through the cracks, and this year was no exception. Here are ten that you might have missed out on. If you didn't, well done. If you did, go them seen immediately, each and every one of them is fantastic for a variety of different reasons.
The End Of The Tour
While Jason Segel and Jesse Eisenberg rightly took a whole heap of acclaim for their sterling performances as David Foster Wallace and David Lipsky, respectively, The End Of The Tour was further proof that James Ponsoldt is one of the most impressive American directors currently working. Part love story, part road trip, part biopic, part drama, part comedy, Ponsoldt doesn't focus on one specific genre but allows them to mishmash together in a deeply human, compassionate, and affecting manner. Sure, Eisenberg and Segel's performances are utterly stunning and give the film a subtle edge that is constantly present despite the fact that Lipsky and Foster Wallace are similar people with similar flaws, but its Ponsoldt's decision not to hammer home the film's dramas and tensions while keeping its beauty simmering underneath that made The End Of The Tour one of the year's most enlightening films.
Room
Another fine example of a tip-top director working with an actor hell-bent on showcasing just how talented she is, Room paired Lenny Abrahamson (Frank) and Brie Larson (Trainwreck), and together they produced the most emotional film of the year. Larson somehow keeps Room captivating, credible, and complex without ever coming close to clawing or melodramatic, really getting to the heart of Joy Newsome's journey as she goes from being kidnapped for seven years to being released into the world. Abrahamson's direction is understated, but this gives Larson the room to dominate while Jacob Tremblay is a perfect foil as Joy's son, born in Room, and his performance is just as layered and impassioned. Expect Larson to become the new Jennifer Lawrence within the next few years.
Brooklyn
Another stunning leading performance anchors this emotional tour-de-force of a film. 21-year-old Saoirse Ronan comes of age in John Crowley's epic but intimate romantic drama that tells the tale of Ronan's Eilis Lacey traveling from Ireland to Brooklyn for a new life. She soon falls in love, but a family tragedy returns her to Ireland and she finds herself torn between the comforts of home and the life she'd created across the pond. Ronan is spellbinding in the lead, and is rightfully regarded as a leading contender for Best Actress gongs over the next few weeks, but its Crowley's direction and Nick Hornby's script that really makes Brooklyn so elegantly stirring. So much so that by the end of it you'll be surprised just how emotional and touching a ride it actually was.
Love & Mercy
It was always going to be a hard task to make a film about the genius of Brian Wilson. On the one hand you could overly focus on The Beach Boys star's musical prowess, or you could just as easily concentrate too much on his mental health issues. In the end, director Bill Pohlad and writers Michael Alan Lerner and Oren Moverman's decision to juxtapose Wilson's life over two specific time periods, when he creatively flourished in the 1960s and was suppressed by psychotherapist Dr. Eugene Landy in the 1980s, ticked both of these boxes in an unorthodox but insightful and compelling manner. Paul Dano is the real star, though, bringing the naively effervescent '60's Wilson to life in a contagiously happy fashion before slowly unravelling as he tries to keep his creative pursuits afloat. The fact that Love & Mercy was released in the heart of the summer probably means that Dano will be overlooked for awards recognition, but that doesn't stop it being one of the best of the year.
Cop Car
Proof that the upcoming Spider-Man reboot is in superb hands, co-writer and director Jon Watts forges a beguiling, low-fi thriller that slowly builds in a suspenseful and increasingly violent manner. Watts pays homage to the early works of Steven Spielberg with his use of children's point of view and wonderfully taut stand-offs, and you're left clinging to the edge of your seat as the story mysteriously unfolds. Those looking for a more certain tone and to be hand-held through its darkened, unexplained plot will be left disappointed, but these are the aspects of Cop Car that make it so uniquely compelling. With Kevin Bacon leading the way in a pulsating and off-the-hook manner, you'll forever be enthralled.
Ex Machina
Released all the way back in April, it might be easy to forget the critical adulation Ex Machina received. Alex Garland's simmering script and direction create a smart and patient thriller that is chocked full of themes and ideas about the use of artificial intelligence. All of these are presented in a stylish, sleek, and stupendously cool fashion, while its ending also proved to be one of the most discussed of the year. Alongside Garland's sublime work, the film has probably the finest three actors of the year in its leading roles, with Oscar Isaac, Alicia Vikander, and Domhnall Gleeson embodying their characters in equally sparkling fashion. Probably the most deliciously unsettling film of the year.
Sleeping With Other People
Sleeping With Other People is the romantic comedy that the Tinder generation has been longing for since the app made being single so appealing. Jason Sudeikis plays a womaniser you can't help but fall in love with, while Alison Brie is the lovelorn Lainey, who can't get over her already married ex. Leslye Headland's script combines subversive rom-com leads with a predictable but still enchanting plot. These two elements blend to create a comedy that deserved a more mainstream audience than its $814,775 box office delivered. Especially since Sudeikis has never been funnier, and gives a performance that was, genuinely, akin to Bill Murray in his prime.
Mr Holmes
Ian McKellan as Sherlock Holmes is the sort of cinematic concoction that you're immediately intrigued by. Now add the fact that McKellan plays a 93-year-old version of the iconic detective, who is trying to remember the details of his final case as he battles dementia, and Mr. Holmes already has the makings of a sensational premise. Director Bill Condon substitutes the usual frenetic suspense and mystery of previous Sherlock Holmes tales for a more patient and tender look at the character, and in the process delivers one of the most satisfying dramas of the year. Which is, of course, made all the more remarkable and captivating because of McKellan's sublime performance.
The Duff
While not quite as funny as Mean Girls, or in possession of a leading lady performance that's immediately as popular as Emma Stone's in Easy A, The Duff makes up for these lack of traits with a genuinely poignant and life-affirming story while still delivering enough laughs and charm in a post-modern way to make for a fine teen flick. Plus, while she might not be the next Emma Stone, the world of cinema certainly needs more Mae Whitman. She's thoroughly charming as she meanders from comical to strong via emotional and pathetic, all while effortlessly carrying the film on her shoulders with a complexion that young actors rarely show. She comes across like a younger, female Philip Seymour Hoffman. And I mean that in the best possible way. The Duff likely won't be the most defining film of her career, but it's the one where we stood up and recognized her talents, and were pleasantly entertained while doing so.
Slow West
Who said the western is dead? Well, Steven Spielberg actually. But there are still a few gems hidden amidst the dying embers of the genre, and Slow West proved to be the year's best. It's slow-burning rather than instantly impactful, with its scenes of violence being just as memorable as its landscape shots and dreamlike energy. From first-time director John M. Maclean, who has the boldness of a much more mature filmmaker, Slow West is inventively layered, gorgeously shot, and just a treat to watch unfold. There's a darkly comic, Coen-esque vibe to proceedings, and Michael Fassbender, Kodi Smit McPhee, and Ben Mendelsohn are a trifecta of actors that make any scene compelling. This is proof that even Steven Spielberg can sometimes be wrong.