How To Train Your Dragon 3 Flees From Pixar's Finding Dory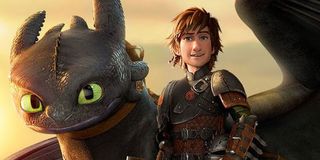 Though not as buzzed about as other summer blockbusters have been, How To Train Your Dragon 2 has been a rousing success this summer. To keep the momentum going, DreamWorks is bumping the release date of its sequel back for proper box office domination.
Coming Soon reports How To Train Your Dragon 3 has flown away from its original release date of June 17th, 2016 all the way to June 9th, 2017.
Its former debut date had the sequel facing off against the Shane Black-directed, Russell Crowe-fronted The Nice Guys as well as Pixar's Finding Dory, the long-awaited sequel to 2003's Finding Nemo. On its new summer home in 2017, How To Train Your Dragon 3 is currently uncontested. However, that season is set to be ripe with animated competition. The sequel to The LEGO Movie will be hitting on May 26th, 2017. Then the week following How To Train Your Dragon 3's debut, Pixar will unleash a new title, though which one is currently unclear.
But does How To Train Your Dragon 3 have reason to fear? It seems not.
When How To Train Your Dragon 2 opened in the US, it was considered a disappointment, coming in #2 behind 22 Jump Street. These were not the kind of numbers that inspire stockholders, and this mediocre debut cost DreamWorks an 11% drop in its stock in just a day.
But since then, How To Train Your Dragon 2 has steadily filled coffers. Now the $145 million movie has earned $174 million domestic, and another $424 million overseas. That's a grand total of $598 million worldwide, and enough to earn this sequel the title of highest grossing animated film of the year. That's a pretty incredible accomplishment. Not only has it out-earned the critically scorned Rio 2 ($495 mil worldwide), but it's also bypassed the critically heralded The LEGO Movie ($468 million worldwide). (Note: The LEGO Movie is still the highest domestic grossing animated movie, with $257 mil in the U.S.)
The key to breaking this worldwide record lies in China. THR reports that How To Train Your Dragon 2 pulled in $5.6 mil on opening day there, which pushed it above the $500 mil mark. And that number just keeps growing, which is good news for How To Train Your Dragon 3. The better its predecessor does, the more likely How To Train Your Dragon 3 will get a bigger budget, and a wider, more spectacular world of storytelling.
The second film took audiences far beyond the Viking island of Berk, where a mysterious dragon rider lurked along with a dangerous band of poachers. Where will Hiccup and Toothless wind up in How To Train Your Dragon 3? Well, we'll have to wait until 2017 to find out.
Staff writer at CinemaBlend.
Your Daily Blend of Entertainment News
Thank you for signing up to CinemaBlend. You will receive a verification email shortly.
There was a problem. Please refresh the page and try again.