How To Train Your Dragon Sequel Details: How Hiccup Becomes A Leader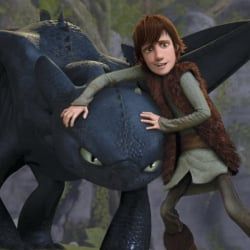 DreamWorks Animation only managed to prove the law of diminishing returns with their numerous, increasingly irrelevant Shrek sequels, but we're still hoping they'll pull off something special this summer with Kung Fu Panda 2, their next effort at building a franchise. Not far behind that sequel will be yet another one, a follow-up to a movie that's even more beloved-- the second How to Train Your Dragon film is coming in at some point in the next few years, and director Dean DeBlois dropped a few details about it to THR at Saturday's Annie Awards.
The details are minimal, before you get too excited, but follow up on the previous promises we've heard that the second film won't just retread the same territory, but will open up the story beyond the Viking village of Berk and the friendship between Hiccup the Viking and Toothless the dragon. Here's how DeBlois put it:
Producer Bonnie Arnold also added that the film will be "the further adventures of Hiccup on his journey of becoming a man and the ultimate leader of the Viking clan," which I believe is the first time we've heard that Hiccup will actually wind up being the leader of the village. Like I said it isn't much, but if you're huge fan of the movie like I am it's always good to hear the creators sounding smart about the franchise they're handling. The second film is still set for a release at some point in 2013, and Deblois is only on the second draft of the script, so don't start getting too anxious about it just yet.
Staff Writer at CinemaBlend
Your Daily Blend of Entertainment News
Thank you for signing up to CinemaBlend. You will receive a verification email shortly.
There was a problem. Please refresh the page and try again.