How To Train Your Dragon Unsurprisingly Leads Annie Award Nominees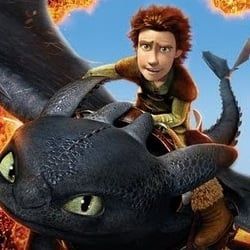 With animated films relegated to the three-wide Best Animated Feature category at the Oscars, it takes the Annies to truly recognize the achievements in animation in a given year. The International Animated Film Society announced their nominees for the awards this year, with How To Train Your Dragon leading the pack at 15 nominations, including the top prize of Best Animated Feature. Alongside it at the top of the heap were Despicable Me, Tangled, The Illusionist and Toy Story 3, all of which scored further nominations in the other categories.
Though no film industry awards are without their behind-the-scenes politics, the Annies have been more fraught than most, particularly after Kung Fu Panda swept the 2009 ceremony and left Pixar's Wall-E empty-handed. Frustrated by what they saw as a bias in the group, Disney withdrew from consideration for the Annie Awards, which helps explains why Tangled and Toy Story 3 scored so low with nominations, scoring just 2 and 3, respectively. That leaves room for How To Train Your Dragon to pretty easily sweep the competition, with Despicable Me as a possible but unlikely spoiler.
It's a shame that the competition is so skewed without Disney's participation, since Tangled and Toy Story 3 both represent huge achievements in the medium and are genuine competitors against How To Train Your Dragon. It's kind of hard to know what to make of the nominations in that light-- like how they managed to nominate Geoffrey Rush for his voice acting work in Legend of the Guardians, but not Donna Murphy's phenomenal Mother Gothel in Tangled-- but you can check out the full list of picks at the Animated Film Society's website.
Staff Writer at CinemaBlend
Your Daily Blend of Entertainment News
Thank you for signing up to CinemaBlend. You will receive a verification email shortly.
There was a problem. Please refresh the page and try again.