The Hunger Games: Catching Fire Adds Two More Tributes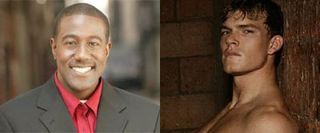 Usually when a movie begins casting its smaller roles, it announces them in one big batch, or doesn't announce them at all, allowing you to discover once you peruse IMDB which character actors will be filling the frame behind the main stars. But The Hunger Games is not most movies, as Lionsgate discovered when fans shrieked with anticipation every time a new person was cast, and they're repeating the strategy for Catching Fire, sending out a press release every single time a new person joins the lineup.
So we actually have two new names to announced, since we left out yesterday's-- consider it a bonus. E. Roger Mitchell, an actor you might recognize from Battle: Los Angeles or Tyler Perry's TV show House of Payne, has signed on to play Chaff, a former Hunger Games winner who hails from District 11. And Alan Ritchson, a young actor with some minor roles behind him, will play Gloss, a "Career Tribute' from District 1 who, along with his sister Cashmere, is a former Hunger Games winner who is chosen to participate in the Quarter Quell. We've been trying to dance around the idea of the Quarter Quell for weeks now in posting these casting announcements, but Lionsgate mentioned it in their press release so we may as well. In Catching Fire, the format of the annual Hunger Games changes formats so that former tributes are chosen to compete in the arena yet again. Gloss and Chaff are among those chosen, and if you think our heroes Katniss and Peeta won't also get involved somehow… well, I won't ruin your illusions just yet.
Catching Fire starts production this fall, and while many of the new names added to the cast recently are minor, bigger names signing on include Philip Seymour Hoffman (as Gamesmaker Plutarch Heavensbee) and Jena Malone, who will play former Games champion Johanna, who strikes up a tempestuous relationship with Katniss. We're still waiting patiently for news on who will play the other major new character, Finnick-- but at the rate we're going, I guarantee we'll have a press release about it soon enough.
Staff Writer at CinemaBlend
Your Daily Blend of Entertainment News
Thank you for signing up to CinemaBlend. You will receive a verification email shortly.
There was a problem. Please refresh the page and try again.