The Hunger Games Is Getting An Awesome Fan Experience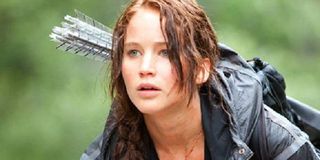 The Hunger Games Victory Tour is coming to a venue near you! Lionsgate films and Imagine Exhibitions, has just announced the world premiere of "The Hunger Games: The Exhibition." The traveling show opens on July 1, 2015 at Discovery Times Square in New York City and will run through January 3, 2016.
The immersive encounter, designed by The Thinkwell Group, lets Katniss fans follow the arc of her story through her beginnings as a fledgling gamester in District 12 to her emergence as The Mockingjay. Galleries are set to include: District 12, Tribute Train, The Capitol, Making the Games, District 13, Fan Gallery and Katniss's Journey. Lionsgate Senior Vice President of Location Based Entertainment, Jenefer Brown went into detail about the the fan experience in a recent press release explaining that the exhibit would feature never before seen content as well as an immersive environment for guests to connect more deeply with the film.
The exhibition will be filled with costumes from the film and yes, you'll get to see the Girl on Fire outfit. Other highlights include the Mockingjay dress, armor and pin, Cinna's sketchbook, Katniss' bad ass bow plus an interactive map of Panem, a gamemaker's control table and a stunt choreography interactive exhibit. After the show's run at Discovery Times Square it will go on a global tour. Tickets go on sale April 21 and start at $22.50.
This type of exhibition is not exactly new to franchises with an avid fan base. The Hunger Games exhibition creator, The Thinkwell Group, designed the Warner Brothers Studios, London "Making of Harry Potter" exhibition that premieres the 9 3/4 Train Platform exhibition in March. HBO created a traveling Game of Thrones exhibit with similar interactive features and costumes in New York last year (it's on a world tour now).
What is news is that The Hunger Games may soon be coming to a theme park near you or may be the centerpiece of its own theme park. What kind of ride would that entail? A luxury train trip through Panem's various Districts? Or a balls out virtual battle in some sort of CG arena where you get to try your hand at besting your buddies and knocking them off one by one?
While you're waiting for the theme park, you can book yourself on a three hour "Girl on Fire" tour in Atlanta (yes, we know it's the home of The Walking Dead but it's also the scene of filming locations including President Snow's mansion, District 12 and the Capitol). Atlantic Movie Tours will also show you where Jennifer Lawrence and other cast members stayed while filming. We love interactive experiences and exhibitions but being at the locations of the real thing is like the difference between going to Paris, Vegas and seeing the City of Lights yourself.
Your Daily Blend of Entertainment News
Thank you for signing up to CinemaBlend. You will receive a verification email shortly.
There was a problem. Please refresh the page and try again.