The Hunger Games Returns to IMAX For One More Week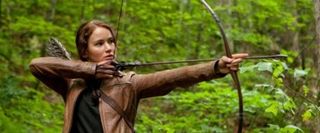 When I saw The Hunger Games on your plain old standard sized movie screen, I was immensely glad I hadn't seen it on IMAX. Lionsgate released the film for a one-week-only run on IMAX screens when it opened March 23, making an extra $13.2 million to buoy its insane $152.5 million opening weekend. But with its shaky-cam shooting style and emphasis on close-ups of its cast, The Hunger Games really didn't seem like it could benefit from being blown up on a giant screen-- if anything, you'd just have to work harder to chase the characters back and forth across the screen, and pay extra for the privilege.
And yet, of course, I don't make the rules, and now that Wrath of the Titans is done hogging all the IMAX screens and The Hunger Games is finally ready to lose its death grip on the #1 spot at the box office, Katniss and company are returning to IMAX. Lionsgate and IMAX announced today that the movie will return for yet another one-week IMAX engagement, starting April 27 and ending May 3, in time to make room for The Avengers. In the release Lionsgate's co-chair Rob Friedman said a lot of the people interested in seeing The Hunger Games in IMAX were "repeat viewers," and positioned the re-release as an opportunity to "accommodate them"-- as if it's not also one more chance to goose the box office for the studio's biggest hit ever.
I like the IMAX format much better than 3D when it's used well, and I think we can all agree to be grateful they didn't shoot The Hunger Games in 3D. But IMAX seems pretty poorly suited to this movie, much as I like it overall-- I'd love to see The Hunger Games on the big screen again, but IMAX doesn't interest me at all. Still, if it floats your boat, and you want to see Katniss's arrows fly on the biggest screen possible, your chance has come around again.
Your Daily Blend of Entertainment News
Staff Writer at CinemaBlend
Your Daily Blend of Entertainment News
Thank you for signing up to CinemaBlend. You will receive a verification email shortly.
There was a problem. Please refresh the page and try again.