Ice Age: Continental Drift Will Float On To 3D Blu-ray In December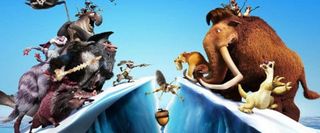 The Ice Age franchise is beginning to feel as old as its namesake. The fourth flick in the series, Ice Age: Continental Drift, follows the ragtag band of now-extinct animals as they meet up with an equally ragtag group of pirates. If you missed the movie in theaters—and you have children—you can catch Ice Continental Drift on 3D Blu-ray, Blu-ray, and DVD beginning on December 11.
Yesterday, I mentioned that the upcoming Beasts of the Southern Wild release may not be the best random stocking stuffer. However, for those wanting to plant their little tykes in front of a TV while you have some grownup eggnog, Ice Age: Continental Drift might be the set you are looking for. The flick's 88 minute running time and countless moments of entertainment via a suicidal squirrel should be exactly what your kids are looking for come holiday season (I know that sounded like sarcasm, but they really do love it).
If there's anything that Twentieth Century Fox Home Entertainment does well, it is putting together extremely kid-friendly sets. While animated flicks for companies like Disney and Dreamworks often know they need to impress the adults, as well, the Ice Age: Continental Drift set goes only for the kids, featuring extras ranging from a "Party with a Pirate! Mode" to dance segments and other interactive features for the kids. Unfortunately, it's looking like you'll have to spring for the Blu-ray 3D release to get the full bulk of the extras, se weigh in how much your kids like dancing before choosing that option. You can check out the full list, below.
Ice Age: Continental Drift Blu-ray 3D Extra
"Party with a Pirate! Mode
"Sign Along Mode
"Through a Pirate's Spyglass: Voices Ahoy and Capturing the Crew"
"Granny and the Stink of the Sloths"
"Scrat Got Your Tongue?"
"Whale of a Tale: Drifts, Rifts, Beasties and Myths"
Gutt's Sing-Along Shanty Shimmy Shake
"We Are" Extended Music Video
"Chasing the Sun" by The Wanted Music Video
"The Sid Shuffle" Dance Along
Deleted Scenes
Ice Age: The Story So Far
Original Theatrical Trailers
Your Daily Blend of Entertainment News
Thank you for signing up to CinemaBlend. You will receive a verification email shortly.
There was a problem. Please refresh the page and try again.