Ice Age's Scrat Gets His Own Short Film In Front Of Gulliver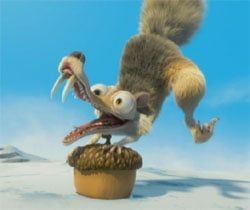 I'm a big fan of cartoon shorts before the feature and, thanks largely to the persistence of Pixar, they seem to be making something of a comeback. When Gulliver's Travels arrives in theaters this Saturday, if you buy a ticket, you'll be treated to an animated short before the film.
It stars the best thing about the Ice Age movies, that acorn obsessed prehistoric squirrel Scrat. The short, titled Scrat's Continental Crack-Up, shows what happens when Scrat literally causes the continental divide. Here's a first look at what Scrat's up to, in the form of a short clip from Continental Crack-Up:
Scrat's Continental Crack-UP will be in 3D where available. Watch Scrat nearly kill himself over and over again in theaters on Christmas Day.
Your Daily Blend of Entertainment News
Thank you for signing up to CinemaBlend. You will receive a verification email shortly.
There was a problem. Please refresh the page and try again.