Ice Age's Scrat Gets His Own Short Film In Front Of Gulliver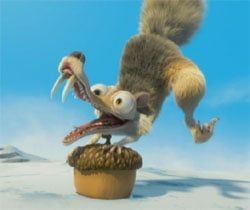 I'm a big fan of cartoon shorts before the feature and, thanks largely to the persistence of Pixar, they seem to be making something of a comeback. When Gulliver's Travels arrives in theaters this Saturday, if you buy a ticket, you'll be treated to an animated short before the film.
It stars the best thing about the Ice Age movies, that acorn obsessed prehistoric squirrel Scrat. The short, titled Scrat's Continental Crack-Up, shows what happens when Scrat literally causes the continental divide. Here's a first look at what Scrat's up to, in the form of a short clip from Continental Crack-Up:
Scrat's Continental Crack-UP will be in 3D where available. Watch Scrat nearly kill himself over and over again in theaters on Christmas Day.
Your Daily Blend of Entertainment News