The Impossible From The Orphanage Director Gets US Release Date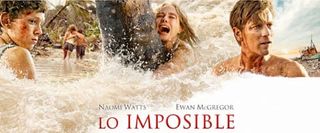 On December 26th, 2004, many of us were lucky enough to be enjoying the luxury and leisure of the holiday season, when news of a horrific tsunami made headlines across the world. The level of destruction was unthinkable when a massive earthquake in the Indian Ocean—later designated the Sumatra–Andaman earthquake—set off a string of towering tidal waves that ravaged Indonesia, Sri Lanka, India, Thailand and more, killing over 230,000 people. This devastation is unfathomable for most, but Spanish filmmaker Juan Antonio Bayona, who drew praise with his beautifully elegiac feature debut The Orphanage, has tackled this tragedy for his follow-up, The Impossible.
The film reunites Bayona with his Orphanage scribe Sergio G. Sánchez, and is based on a real account of the events. Ewan McGregor and Naomi Watts star as a married couple who are on vacation with their children in Thailand when the killer waves hit the shore, throwing them each into the remarkable mayhem that followed one of the most catastrophic natural disasters of our time. But far from wallowing in the darkness of such tragedy, Bayona and Sánchez aim to highlight the moments of courage, compassion and kindness that could be found among the rubble.
Paving the way for the film's debut in Spain this fall, Warner Brothers has already unleashed a chilling teaser —in which we can collectively feel the relief of Watt's desperate breath as she pulls herself free of the furious waters—as well as a full-length trailer. Both gave an awe-striking glimpse at Bayona's ambitious disaster drama, but there was no word on when The Impossible would come to the U.S.
Now Summit Entertainment is proud to announce The Impossible will open in limited release in New York and Los Angeles on December 21, 2012, meaning it will make for a cinematic memorial on the eight year anniversary of the event.
Staff writer at CinemaBlend.