The Incredibly Stupid Reason MGM Is Suing Rocky II's Biggest Fan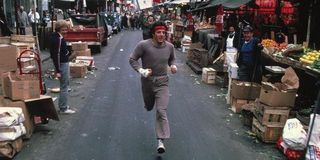 Fun-run organizers who are planning to retrace Rocky Balboa's training steps from Rocky II have been forced to re-name their event after MGM threatened to sue.
Rebecca Schaefer hails from Philadelphia, the setting for pretty much all of Rocky's boxing trials and tribulations. She had been inspired by the work of a Philadelphia Magazine columnist after he had figured out the exact route that Sly took in the 1979 sequel as he trained to fight Apollo Creed for the second time. Schaefer decided to poetically name her event the "Rocky 50K Fat Ass Run."
This is where MGM intervened, though. Apparently the film has already sponsored an official run, and the studio -- which owns the rights to the franchise -- decided to protest the name on trademark grounds. The Rocky Run is held on a yearly basis in Philadelphia. This year's gathering will take place on Saturday, November 15, and runners will gather outside Philadelphia Museum Of Art, which is the infamous home to the Rocky Steps, before embarking on either a 5K or 10K run.
The "Rocky 50K Fat Ass Run" will be a much longer course than its more corporate peer, though. The aforementioned column intimately examined the various montages from Rocky II to reconstruct the exact route that Stallone ran, before then using a USA Track and Field distance-measuring tool to conclude that the boxer had in fact covered 49.262km. Of course this sequence started with Rocky leaping off his porch at 2313 South Lambert Street while wearing his infamous grey tracksuit, before he then unwisely ran on the train-tracks at Lehigh Avenue, visited an Italian Market on Ninth Street, crossed the B Street Bridge at East Gurney, across Kelly Drive, up Chestnut Street, past Independence Hall, down the Benjamin Franklin Partway, which took him to the Art Museum steps. All the while gathering children like a 1970's version of the piped piper.
Schaefer is still adamant that the race will proceed though, even though she received the following cease-and-desist letter from MGM:
She has already started to collect ideas for the new name of her race courtesy of the Rocky 50k Run Facebook page. So if you have any suggestions you should click over there to offer your assistance. But as we're all here to talk about Rocky, and we're only half way through the week, I can't think of a more perfect time to watch the following ….
It's enough to make even a fat-boy want to run.
Your Daily Blend of Entertainment News
Thank you for signing up to CinemaBlend. You will receive a verification email shortly.
There was a problem. Please refresh the page and try again.