Indiana Jones 5 Still Unlikely After Disney-Lucasfilm Deal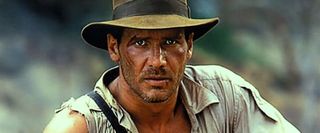 Kids of the 70s and 80s have been processing a lot of excitement lately, with news that Disney had bought Lucasfilm and was planning not one but three new Star Wars movies. It was clear that Star Wars would be exploding like never before, but slightly disappointing to learn that Lucasfilm's other big franchise-- Indiana Jones-- wasn't part of the deal. Paramount still has the rights to that franchise, and with a Star Wars movie to get going, nobody seemed all that focused on it.
Especially because producer Frank Marshall had all but killed talk of Indy 5, saying "for me, Kingdom of the Crystal Skull is the last hurrah." That doesn't mean fans won't keep hope alive, though, and walking the red carpet for the premiere of The Twilight Saga: Breaking Dawn Part 2, Marshall said that the Disney-Lucasfilm deal had not changed Indy's status. Check it out in the video below.
That's pretty much the definition of non-news right there, though it did seem worth checking in on the status of Indy 5 given all the excitement around Star Wars. But Frank Marshall has more reason than just about anyone for pumping up anticipation for Indy 5, and even he thinks it's not happening. So while you stress out over whether or not the chosen director for Star Wars Episode VII will ruin the whole thing, just feel confident that Indiana Jones is safe… for now. "It's really on the back burner, and we're not really talking about it. Star Wars is next. Nothing has change
Staff Writer at CinemaBlend