Interstellar Got Robbed, Why It Deserved Way More Oscar Nominations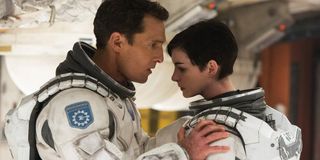 The Academy Award nominations have been officially announced, and already there's a lot to talk about in terms of what made it and what didn't. One of the biggest snubs in this year's interesting, if not milder than usual, Oscar race is the fact that Interstellar only received nods for Best Visual Effects, Best Production Design, Best Sound Editing, Best Sound Mixing, and Best Score. That's right... Interstellar is the new Transformers. It dominates the tech categories, but fails to do much else in the major categories.
Categories like Best Director, which has seen Christopher Nolan snubbed time and time again for the work he's put in on films like Inception and The Prestige, as well as The Dark Knight trilogy. For a man who's usually cited as being technically proficient, but emotionally sterile, Nolan's efforts in bringing his talents to a more Spielbergian project were successful enough on Interstellar that he deserved more recognition. Anyone who can get Matthew McConaughey to cry that perfectly obviously has the emotional handle on the material in front of them.
This also points to the bigger snub of a failure to secure the nomination for Best Original Screenplay, as Jonathan and Christopher Nolan's work on Interstellar's story turned it from a stereotypical science fiction film, complete with zero-g sex, into a story about trying to save the world – while finding your way home. While some of its elements don't really work the first time you experience them, it's after the entire film has gelled in your mind that you begin to see its brilliance on the whole. Gravity received more nominations last year, as well as a seat at the front-runners' table for Best Picture, and it was considered by some to be emotionally underwhelming. What this says for The Martian's chances for golden glory in next year's race is not certain, but it also seems to be stranding poor Mark Watney on more than the Martian surface.
So how did the Academy get it right with Interstellar? They recognized the film's acute technical prowess with Visual Effects, as well as its Production Design of real spacecraft sets. While most of the technical awards obviously understood Interstellar's artistic beauty, even they managed to turn a cold shoulder on Hoyte Van Hoytema's gorgeous cinematography, showing that even when they get it right, there's just a little bit of shade thrown towards the end product.
Most importantly, Interstellar's Academy Award nominations contained a well deserved nod for Hans Zimmer and his tremendous work on the film's score. If I were to bet on what swayed the Academy voters to give this nomination to it's talented composer, I would wager two stacks of high society on the track, "No Time For Caution," aka "the docking scene music." Take a moment to listen to that track below, and tell me that's not the ace in the hole for Interstellar's score.
Some say that Christopher Nolan is the new Stanley Kubrick, as his cerebral brand of popcorn movies are consistently passed up for awards that a good number of his fans believe he deserves. While I'm perfectly fine with that analogy, as that would mean that the Nolan legacy will be one for the history books and film academics to relish in ad infinitum, it's still a damned shame that Interstellar isn't more recognized as the work of artistic craftsmanship that it is. Maybe one day, The Academy will give up their grudge against honoring science fiction, but today is not that day. Here's hoping that despite its limited nominations, Interstellar cleans up in its categories... or at the very least lands a much deserved win for Hans Zimmer's musical opus.
Your Daily Blend of Entertainment News
Senior Movies Contributor
CinemaBlend's James Bond (expert). Also versed in Large Scale Aggressors, time travel, and Guillermo del Toro. He fights for The User.