Why Christopher Nolan Deserved A Golden Globes Nomination For Directing Interstellar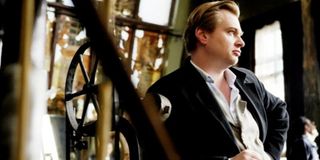 The Golden Globe nominations hit this morning, and while there were a fair share of shoo-ins logged, there were also some surprises and some snubs. In the latter category stands movies like Whiplash and Nightcrawler, which were both hotly talked about upon their release, but ultimately failed to seal the deal when it came to winning the Hollywood Foreign Press Association's favor. While both of those films secured acting nominations to soothe their jangled nerves, there's one film that didn't even get that courtesy: Christopher Nolan's Interstellar.
Now, granted, Interstellar severely deserves its lone nomination for Hans Zimmer's absolutely gorgeous score. You won't hear much complaining about that. However, there's a nomination everyone was talking about early on that didn't happen, and that was Christopher Nolan's predicted nomination for Best Director. When Interstellar first came out, there were rumblings that Nolan would finally make it to the show for the first time since 2010's Inception. This was supposed to be the film that would carry him into his first Academy Award nomination for Best Director as well, although the case could be made that this morning's result could cast a shadow on that. Which is a damned shame, because Christopher Nolan deserves that nomination.
Interstellar is a film that could have gone severely wrong, wrong enough that it could have constituted as Christopher Nolan's first box office bomb. Thematically it could have been a disaster on so many levels, and acting wise it could have been hackneyed beyond all get out. All three fronts, while not perfect, were exemplary enough that Nolan's touch elevates the film once it kicks in. Keep in mind, this is a project that started with Steven Spielberg, and it definitely shows in the family drama that starts off the film. But Christopher Nolan, like any good improviser, not only takes that route and honors it, he melds it with a science fiction story for the ages.
On the technical front, Nolan refused to get sucked into a completely CGI production, and worked with as many practical effects as he could. TARS alone should be a nomination-worthy achievement, as every form but the "speedy asterisk" form he takes was all puppetry. Come to think of it, the entire film banks on old fashioned science fiction thinking and special effects, with a story that's both relevant and classic. In years to come, Interstellar just might become as well thought of as 2001: A Space Odyssey, showing that Nolan's work is for the long haul and not just to produce a film that plays best here and now.
Christopher Nolan was robbed of a Best Directing nomination for Interstellar, and while you can't really bag any of the current nominees, it still really stings that his talent is on the right track to non-recognition this awards season. Here's hoping that trend reverses with the Academy Awards nominations next month, and here's also hoping that Hans Zimmer wins one for the team on Golden Globes night!
CinemaBlend's James Bond (expert). Also versed in Large Scale Aggressors, time travel, and Guillermo del Toro. He fights for The User.
Your Daily Blend of Entertainment News
Thank you for signing up to CinemaBlend. You will receive a verification email shortly.
There was a problem. Please refresh the page and try again.