Interview: The Good Guy's Bryan Greenberg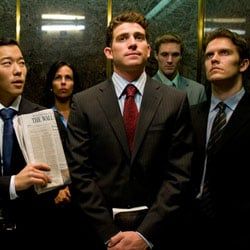 In The Good Guy Brian Greenberg literally plays the good guy. After taking a position at a financial firm on Wall Street, Daniel is forced to transition from a sweet and awkward bookworm into a curt selling powerhouse. His good guy image may not be appropriate for the financial industry, but it does catch the attention of a young woman named Beth. The problem is, she happens to be the girlfriend of Daniel's mentor, Tommy.
It's a good thing Greenberg has an appreciation for learning new things, because right after wrapping production on The Good Guy, he had to gear up for his brand new HBO show, How to Make It in America. Greenberg's character isn't very business savvy in this project either. He plays Ben, one half of an enterprise team trying to make it in the New York fashion scene.
His characters may not be at the top of their games on Wall Street or on the runway, but Greenberg is as an actor. And now, more than ever, he's getting the chance to show us what he's really capable of.
How'd you get involved in this project?
They approached me with the script and it was kind of an easy movie. They were shooting for five weeks in New York and I responded to the material and I really liked the producers, Belladonna, they did Transamerica and A Guide to Recognizing Your Saints. I had a conversation with Julio, the director, and I decided this is a different character than something I've played in the past and why not? Let's go for it! It was actually one of the smoothest movies I've ever been a part of. I've been on some big budget movies and people take their time, you don't make the day. This was like, you don't have time to mess around and you've just got to go for it. There were no hiccups in shooting this movie at all.
Did you know anything about trading when you took the role?
No, I didn't know anything and that's another reason I wanted to do it. Julio [DePietro] is very well versed in that world from his past and so he took us down to Wall Street and brought us on the trading floor and showed us these guys and how they interact and how they work the phones and what these sales mean. I read the script and was like, 'I don't understand the dialogue at all.' [Laughs] I don't even know what they're talking about! I went to art school. That's one of the cool things about being an actor; you get to take on all of these different hats and learn these different professions and play the character. I was really excited to be immersed in this world for a summer.
You got to ring the New York Stock Exchange bell recently, right?
Yeah! I just rang it on Monday and the Dow plummeted the worst in three months.
I know the film was made quite a long time ago. Do you think moviegoers will still be willing to accept these upscale young professionals in the middle of a recession?
Even though [the move] would [take place] pre-recession, I think the timing couldn't be better because it kind of examines the Wall Street culture. Tommy is this guy who's greedy and wants more and that's kind of the reason why we're in a recession right now, because of guys like that. I think we kind of lucked out with that shot of him at the end looking at the New York Stock Exchange through his window and that scene hits home a lot harder now than it would before the market crashed. So I actually think the opposite.
What was your experience working with a first time writer/director?
I had a great time working with Julio, I've got to say. He's obviously very talented because he wrote the script, so he knew what he wanted, but he had amazing poise to know how much he doesn't know. He didn't try to overcompensate. He didn't have any ego in the process. If he didn't know something about a lens or whatever, he trusted his DP or he trusted his actor about a moment. He really trusted me with Daniel and I took some risks with it and he went with me and he guided me along that process. It was a true pleasure. I'm really really impressed with what he did with his first movie.
Did he let you adlib at all?
Definitely, that's the biggest part of my work. I always find it difficult when directors restrain me from that process. It's not like I'm tying to rewrite. Obviously I liked the script, that's why I did it. I like to keep things fresh, change it up and I always do it the way it's written, but then I do a couple my own way. That's just how I work. It keeps me on my toes and the other actors on their toes. He was cool enough to go with that and a lot of writer/directors are so worried about their words and their idea of how the movie should be instead of addressing the moment that's really happening and sometimes the words don't always match up to that. That's why I like to do improv and he was cool enough to go with it.
How was it working with the rest of the cast? It seems like a fun young group, so I bet it was a blast.
You know what? I love everybody working on this, but this is the first time I sort of removed myself from everybody while shooting. I didn't want anyone to feel too comfortable around me or me feel too comfortable around them because my character is so socially awkward. I stayed at a totally different hotel. I kind of just removed myself and I wanted it to be weird when I was shooting. It's the first time I've ever done that. It sucked because I really liked everybody! [Laughs] I wanted to hang out, but I just thought that I needed a distance for my character to work.
Did you ever get frustrated with the character and wish you could just shake some sense into him?
He was a lot of fun to play because even the wardrobe – wearing the New Balance sneakers with the woven belt tucked in, with the Sidekick on the belt – yeah, you want to shake that guy and I think it lends a lot of comedic moments in the movie because Scott Porter's character, Tommy, he's like, 'What are you doing?' I'm a mess. Daniel's a mess!
Do you have better game with the girls than he does?
[Laughs] I don't know! I mean, he does alright in the movie, but I don't know. I'm not very good at breaking the ice but once someone introduces me I'm off and running. I think, Daniel, he had to meet the perfect girl in this film for it to work.
Any plans for Valentine's Day?
My show comes out that night on HBO so I don't know. Maybe I'll still go out with some of the cast in LA and hang out.
How's everything going with How To Make It In America? Are you getting good vibes?
Yeah! It's crazy. Everyone's so excited about it. I've never been a part of a project that's got such good buzz. It's really exciting to be around and it's such a cool show to work on. We just had the premiere in New York, it was a lot of fun and just doing a lot of press and getting it out there. And people seem to be really connecting to it and it's awesome to be a part of something like that.
And it's an HBO show too, which is pretty prestigious in itself.
Yeah, they're excited about it as well.
You've been on HBO before, right?
I did a show called Unscripted about five years ago, so it's just great to be back on a network that I really really respect and it's kind of the only network I really watch. I just love their programming, they take risks and it feels like a family. It feels like a home so it's nice to come back home. And it provides you time to shoot cool indies like The Good Guy and other movies and to work on music, so it's really a great situation.
Do you have anything on The Good Guy soundtrack?
I do not believe I do. I did play some shows while I was out there and the cast and director they all came down and supported, which was really cool.
You shoot the show in New York, right?
Well, we wrapped in December. The show is definitely all about New York City, so we shot it all on location. The last four or five jobs I've done have been in the city. I live in LA, but it's great to keep working in New York. The Good Guy is a totally differently looking New York than How To Make It portrays. The Good Guy is all about Wall Street and that culture, which How To Make It touches on but How To Make It also is downtown, lower east side loft parties, cool clubs, Brooklyn and that world.
What do you have coming up other than the show? Any films?
Isn't that enough? [Laughs] Isn't this enough for one week? Actually after this I'm chilling. I don't know. I'm going to hopefully get back in the studio and work on my second record and I'm looking at film projects and we'll see what happens with a possible second season for How To Make It.
So when are you going to be in the midst of a superhero movie rumor?
Bryan Greenberg in a cape? Who knows? Anything's possible.
You're always the nice guy. Try going for a villain part.
I'd love to! That would be fun. It seems like that's the only movie they're making now. I'm excited that The Good Guy is getting distribution because indie movies they're not – people ran out of money and they're not making these movies anymore. It's all superhero movies or real obvious tent pole studio films. I really hope people go out and support the indie filmmakers because it's a dying breed and there's a lot of cool voices out there that need to be heard.
Your Daily Blend of Entertainment News
Staff Writer for CinemaBlend.