Interview: Mandy Moore On Because I Said So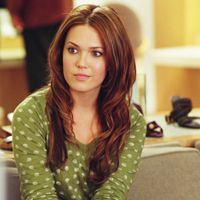 It's one thing to grow up in front of the camera, but Mandy Moore has been growing up on film and in the public eye simultaneously. From her teen music career to her gradually maturing movie roles, we've all gotten to know Mandy Moore. Her latest film, Because I Said So may be her most womanly role to date. She plays a successful caterer torn between two prospective boyfriends, and even more torn by her intrusive, obsessive mother (Diane Keaton).
In real life, the Moores only support Mandy. "I still live with family, or my family lives with me," she said. "I have an older and a younger brother and they both live with me here in LA. I feel really lucky in a way. I know my mom cares but just not enough to really meddle too much. I guess I have sort of an atypical relationship with my mom for someone my age, because I think I started so young with the music thing and I had my parents always on the road with me. So at a time when I think I should have been rebelling like in high school, they were actually my best friends. They were the people I was closest to because they were on the road with me and going through this crazy roller coaster experience with me. So my mom has never been a big meddler and isn't like extremely opinionated or at least just doesn't voice it to me. She's sort of let me come into my own by myself and I think that's just a testament to what my parents did in terms of raising us."
Movies and music have been dueling for Moore's attentions for the past several years. "I actually just finished my record which was sort of a two year process in terms of writing and everything, and I think in that sense it's just about prioritizing. The last couple years, I've really been sort of focused on acting and I feel really lucky because great projects sort of keep coming my way. I guess the criteria that I look for, it gets increasingly difficult because when you have the privilege of working with someone like Diane, it's kind of like, 'Well, where do you go from there?' But it depends on the scripts and the character and just everybody involved, the other actors and directors. I don't know. It's sort of just like a gut feeling when you find something, you're like, 'Yes, I want to sink my teeth into that.'"
There's more girl power in Because I Said So with Lauren Graham and Piper Perabo playing Moore's sisters. All four ladies bonded over a scene in which they all strip to their undies in a massage parlor.
"The scene with us in our underwear was particularly difficult because we kept going back and forth. Piper was fine. She was the one I think right off the bat that was like, 'Yeah, all right, I'll be in a thong, I don't care.' Lauren and I were petrified and kept going back and forth between like should we have body doubles, should we do it ourselves? I'm super self-conscious and what girl really feels comfortable about being on a gigantic movie screen with her butt there? Just everything is in full view. But in the end, we all decided just to dive right in and go for it. Why not? I'm embarrassed of it but yeah, it's over."
The banter between the girls flies rapidly, with plenty of zingers threatening to break Moore's character. "I don't know about scenes where I couldn't contain myself from laughing. There are always those moments where sometimes there's something funny that's said right before the camera rolls and you just can't get it out of your head. You feel so unprofessional because you keep laughing and cracking up during a scene. I think the scene that I felt like kind of the most uncomfortable and awkward in front of everyone at first was describing the orgasm. That took a little getting used to just kind of jump into that. Once you've got a couple takes under your belt, it's fine."
Perhaps the biggest "cool factor" Moore earned was appearing in Entourage as the celeb who broke Vince's heart. "They just approached me to do a couple episodes of the show right after the first season had finished airing. I loved the show. I was a huge fan of it. I had no idea, because it was really like the second season where it completely opened up and people became obsessed with the show. I just thought it would be fun to go on and play a weird version of myself I guess. I had a great time doing it. They're all such wonderful people and it was kind of nice being the only girl with all the guys. I liked that. But I'm a huge fan of the show. I really had a lot of fun doing it."
Moore did get back to music, spending the last two years writing and recording songs for an album to drop in the spring. "It's a really sort of organic record. I would say it's sort of folky pop. I've been so immersed in it. I went away to Woodstock, New York for two months this fall and just completely threw myself headfirst into it and had probably the most creatively fulfilling experience I've ever had doing anything. It's been a passion project of mine. I've been writing for two years and I think it's a completely different side of me musically than people maybe are expecting or have come to know from my past efforts."
Until then, she'll satiate her music bug by obsessing over American Idol. "Are you kidding, dude? Huge Idol fan." Don't expect her to guest judge though. "No, because I feel like that would taint my whole idea of the show. I don't want to know what goes on behind the scenes. I just want to watch at home and vote afterwards."
Because I Said So opens Friday.
Your Daily Blend of Entertainment News
Thank you for signing up to CinemaBlend. You will receive a verification email shortly.
There was a problem. Please refresh the page and try again.