Interview: Monsters Writer-Director Gareth Edwards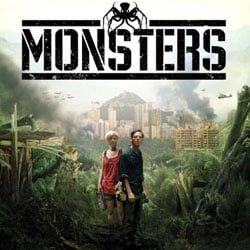 Like most aspiring filmmakers out there, Gareth Edwards emerged from film school expecting to get to work on his very first feature. It didn't take him long to realize that that's not how the business works and things take time. Lucky for Edwards, for him, the long haul was worth the wait because he's got an impressive film to show for his very first feature.
Monsters follows the journey of Andrew and Sam (Scoot McNairy and Whitney Able), two Americas forced to trek through Mexico's "Infected Zone" in order to make it home to the states. Six years ago, a NASA space probe carrying samples of alien life forms crash landed in the area, releasing the specimens. Now, this quarantined section of the country is home to creatures that will not hesitate to attack intruders. Regardless, Andrew and Sam are desperate to go home and take their chances in the jungle.
Just as fascinating as the story, is Edwards' personal journey to getting the production up and running. Not only had the idea been gestating in his mind for quite a while, but he also went about shooting the film in a very unusual way. With just his leads, a producer, soundman and a Spanish translator, Edwards got to work, taking things one step at a time and just rolling with whatever came his way. In the end, it looks like Edwards is going to have to stock up on a lot of medicinal cream because there's tons of buzz around Monsters and while most of us would take that as a good thing, Edwards can't shake the fact that the concept of having "buzz" sounds a bit more like having an STD than relating to positive word-of-mouth. Now that I've just made "buzz" sound even more grotesque, enjoy the video interview with Edwards below.
Staff Writer for CinemaBlend.
Your Daily Blend of Entertainment News
Thank you for signing up to CinemaBlend. You will receive a verification email shortly.
There was a problem. Please refresh the page and try again.