Interview: Slumdog Millionaire Star Dev Patel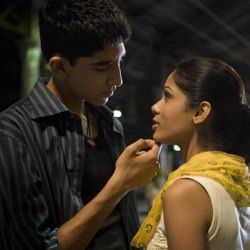 You've never heard of Dev Patel, but I guarantee that's about to change. The 18-year-old Brit, whose only previous screen experience was a bit part on the racy British series Skins, is set to be the breakout star of Slumdog Millionaire, Danny Boyle's movie about love, death and adventure in the underworld of Mumbai, India. The movie is already being talked up as this year's Little Miss Sunshine, and that's not just because of the bright colors and the fact that Fox Searchlight is distributing it. Slumdog is one of the rare feelgood movies likely to be considered Oscar worthy-- and Patel is right there in the middle, more likely than not to find a seat at the Kodak Theater in February.
Though Jamal, his character in Slumdog, is quite buttoned-up and serious, Patel bursts into the room on a veritable wave of energy. He's the first star I've ever seen actually videotaping the journalists-- apparently even junkets held in conference rooms are worth remembering from his trip to New York. Speaking with lots of British slang, a long way from the Indian accent he uses in the film, Patel talked excitedly about meeting Danny Boyle, auditioning with hordes of beautiful girls trying to play the love of his life, and the most sour-tasting pizza in the world.
How did you get this role?
As soon as I heard Danny Boyle was doing it, I was like, yeah, wicked. I was cast, and then they sent me to India. And I did an audition with 15 or so beautiful girls, because they were casting Latika.
Now what was that like?
That was wicked. I felt like a kid in a candy shop, really. There were all these beautiful girls. Yeah, Freida [Pinto, who plays Latika], she told me after our first audition she felt like a bit of a pedophile after our first love scene, because she's 24 and I was 17 at the time.
You said parts of the audition process almost had you in tears. What was it about that that was so difficult?
It's really nerve wracking, for one. Because obviously Danny Boyle's in the room, and things like that. I really wanted it. It was the first time in my life I had wanted something so bad. I remember doing one audition, and at the end of it Danny gave me this kind of talk, it was one of those talks like he was letting you down. Then after that I went with my mom to have a pizza, and it was the most sour-tasting pizza in the world. I felt like crying. Then I got a call two weeks later like something like, and it was Gail Stevens, the casting director, going 'They want you to go to India for a week, to join everyone on locations.'
Do you think the film would have been different if it were directed by an Indian?
I don't think it mattered. I think it was good in a way. Danny didn't take it as a foreigners point of view, and he really got in there deep. All the crew was from India. Everyone was like their own little co-director. We got to see the slums and all that. We got a nice portrait of what we were going to film.
Had you ever been to the slums before?
No, not prior to that. But I went on location scouting to help me get into the character. I went to the biggest slum in India. That was a real eye-opener, really. When I go there, I was so happy to be proved wrong [about what I had expected the slums to be]. It was an overwhelming sense of community. Everyone knew everyone, and they were all happy. And like Danny says, they're proud of where they live. They said make sure you don't make us look like we're poor, because we're happy. It was great to see that.
Did you see a lot of Bollywood films?
Yeah, my family is of Indian heritage. Whenever I go to my grandma's house she's got one on.
Do you feel like you learned a lot making this film?
When I was playing this character, I tell Freida and Danny this all the time, I feel like I matured five years in the space of five months. It was a massive learning experience for me, being out in Mumbai.
Can you talk about that dance sequence at the end?
I thought it was a metaphor. Then one day on set, Danny said, 'Oh, by the way, tomorrow we've got a choreographer coming in for you.' I was like, 'What? You are not making me dance.' Freida was all into it, because they grew up watching the stars and all that. But I'm the guy in the club who stands in the back, sipping my drink, nowhere near the dance floor. But after all of that practice, I never knew I could move my hips like that.
Can you talk about the torture scenes? You go through a lot.
Yeah, that was scary stuff. We had done the dance sequence for three nights. There's one scene right at the end when I run across the platform, and running across the platform I tripped on a stone and twisted my ankle. It turned into like an elephant foot after dancing on it for three days. They had to cut my shoe open so my foot would fit in. But then, yeah, the torture scene was after that. I was up there hanging. All the blood started to pool in one leg, so they had trouble filming my feet. But yeah, I really got into it.
How does Danny work with actors, and how did he work with you?
Man, he's great. Coming from [British TV series] Skins, I was still finding my feet as an actor. Working with Danny was really a godsend. He was a director you can really put all your confidence into. If he tells you something totally outrageous, you just learn to trust him, because he's always thinking of the bigger picture.
Your Daily Blend of Entertainment News
Staff Writer at CinemaBlend