Invictus Writer Will Dive Into Deep Sea Cowboys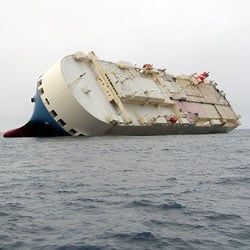 Writer Anthony Peckman will trade Nelson Mandela for a salvage crew. The Invictus writer has been recruited to pen the screenplay for Deep Sea Cowboys, an Alex Kurtzman and Roberto Orci-produced action film based on an article written by Joshua Davis for Wired. The article provides a real-time experience of a team of men trying to recover a ship's precious cargo after it topples to one side.
Back in February, it was announced that David Ayer (Training Day) was the scribe selected, but the deal must have fallen through. The THR article notes that Ayer 'previously worked on the script' but makes no mention of a reason for his replacement. While it makes perfect sense for the U-571¬ writer to tackle another at-sea travesty, Peckman has immense potential. He wrote the 2001 crime drama Don't Say a Word, the highly anticipated Sherlock Holmes and is likely busy reveling in the Oscar buzz surrounding Invictus.
The fact that the source material is fantastic certainly helps his chance for success with this one. Davis is a sharp writer and the story should translate well on screen. Click here to check it out; it's well worth the read.
Your Daily Blend of Entertainment News
Staff Writer for CinemaBlend.