J.J. Abrams Will Direct Star Wars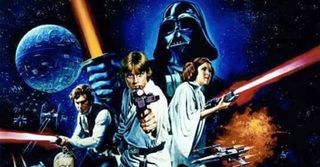 One of the most high-profile and desirable directing gigs in the business may have been assigned. J.J. Abrams, the mastermind behind the current Star Trek revival, is reportedly set to direct a new episode of Star Wars, now in development at Disney.
The news comes from The Wrap, where they're citing "an individual with knowledge of the production" and offer no further details. Deadline has chimed in with their own vague source, claiming "it's a done deal with J.J." And The Hollywood Reporter's Borys Kit has made it three, tweeting that his sources have confirmed the news as well, although "negotiations quite down the road," which will make it quite a while before the news is suer-duper official.
Abrams had been on the short list for a lot of fans, including our own Sean O'Connell's, and Abrams himself admitted not long ago that he had conversations with Lucasfilm about the project and "I declined any involvement early on." So either he was lying back then, or he's been convinced to take another look. With negotiations still to come, is it possible he was holding out back then for an even better deal than the one he's got now?
We'll bring you updates as we get them, but meanwhile let us know what you think of this potential Abrams-handled Star Wars future.
Staff Writer at CinemaBlend
Your Daily Blend of Entertainment News
Thank you for signing up to CinemaBlend. You will receive a verification email shortly.
There was a problem. Please refresh the page and try again.