JK Rowling's Big Harry Potter Riddle Has Finally Been Solved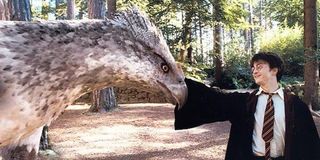 As J.K. Rowling likely knows, fans of the Harry Potter books are all about digging for clues and trying to figure out what's happening next. So when the author dropped a teasy clue on her Twitter, the internet went to work trying to figure out what it meant. Some theorized a return of her beloved character, Harry Potter, but after Rowling shared a clue that confirmed that the anagram had to do with Fantastic Beasts and Where To Find Them, a fan came back to her with the correct answer:
For those just catching up, it started with this Tweet:
Which came in response to a fan Tweeting that they analyze every one of Rowling's Tweets. She responded to the "challenge" with the anagram, and after the internet went into a riddle-solving frenzy trying to figure it out -- some speculating that it had something to do with Harry Potter returning -- she shared this clue, revealing that it has to do with the lead character of Fantastic Beasts and Where To Find Them, Newt Scamander:
From there, Rowling teased a partial translation or two, and eventually, one clever fan -- presumably a Ravenclaw -- came up with the answer, which actually reveals a snippet of plot clue for the film. We already knew that Fantastic Beasts is set to pick up with Newt Scamander in New York, and that the story is set seventy years or so before Harry went to Hogwarts. But there is a bit of new information in the clue, as the partial-synopsis implies that Newt wasn't supposed to be in New York for long. So, presumably something happens to keep him there. And from what Rowling added, it sounds like the whole -- or most of the? -- movie might take place in New York...
Is anyone else going to be able to sleep better tonight knowing that this riddle has been solved? Not that I was obsessing over the clue or anything... Because who would spend a ton of time and mental energy trying to mine J.K. Rowling's updates for information about future projects? Honestly...
Fantastic Beasts and Where To Find Them is a feature adaptation based on a reference guide by the same name, penned by J.K. Rowling in 2001. The film is set to tell the story of the fictional author of the book, Newt Scamander. J.K. Rowling is writing the screenplay and last we heard, David Yates is being eyed to direct. The story is expected to be split into three films, with the first hitting theaters in November 2016.
Your Daily Blend of Entertainment News
Thank you for signing up to CinemaBlend. You will receive a verification email shortly.
There was a problem. Please refresh the page and try again.