Jack Black Goes To A Renaissance Fair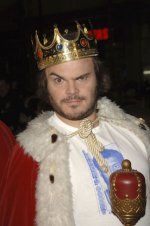 I remember going to my first Renaissance Fair and despite my mother's warning, being disappointed that there wasn't a sno-cone stand and a Ferris wheel. What kind of dumb-ass Fair was this? An inexplicably popular one, it turns out. Despite the complete lack of anything remotely considered fun, these so-called Fairs turn up yearly to sell you a turkey leg and have a busty wench call you sire.
The Fairs will also serve as the backdrop for what should be a hilarious movie featuring Jack Black. Screen Daily says Black will star in Ye Old Times along with two uncast romantic leads. Joining in supporting roles are Tim Robbins, Will Arnett, and Cary Elwes. Rob White is making his feature directorial debut.
The movie will focus on rival Fairs battling for supremacy among the Wiccan set. Black will play Professor Shockworthy (sounds suspiciously like a made-up name) who narrates the film and helps the romantic leads in life and love. I can not wait to see how this turns out.
Your Daily Blend of Entertainment News
Thank you for signing up to CinemaBlend. You will receive a verification email shortly.
There was a problem. Please refresh the page and try again.