Jack Ryan: Shadow Recruit Gets An IMAX Makeover For Release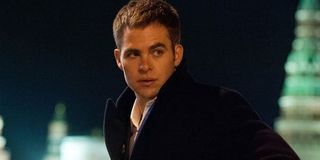 If you were one of the Tom Clancy fans lamenting the move of Jack Ryan: Shadow Recruit from Christmas Day to January, there's some reason for rejoicing. Paramount Pictures and Skydance Productions have decided to add even more spectacle to this intrigue-rich and action-stuffed thriller by readying it for an IMAX release.
THR reports Jack Ryan: Shadow Recruit will be digitally remastered by IMAX Entertainment, the company that specializes in supersizing blockbusters for their massive trademarked screens. CEO of Imax Entertainment and senior executive VP of Imax Greg Foster said of the upgrade, "Tom Clancy was one of the most gifted tellers of thrilling espionage-themed stories we have ever known. We believe that the combination of his truly iconic Jack Ryan character with this stellar cast and the immersive IMAX format will provide moviegoers with a can't-miss joyride."
Jack Ryan: Shadow Recruit marks the fifth film to utilize Clancy's beloved analyst hero. Following in the footsteps of Alec Baldwin, Harrison Ford, and Ben Affleck, Chris Pine has stepped into the role of Ryan, appearing opposite such dramatic heavyweights as Keira Knightley, Kevin Costner, and Kenneth Branagh. This adventure has Ryan as a young covert analyst working for the CIA in Moscow. But when he stumbles across a Russian plot to destroy the American economy, his life and that of his loving wife (Knightley) is thrown into peril. To survive, they must trust in his contact William Harper (Costner), and defeat the villainous mechanizations of Russian industrialist Viktor Cherevin (Branagh).
I recently had a chance to preview 17 minutes of the finished film at a special event in New York City that had Pine in attendance. Personally, I was impressed by the first action sequence they showed us, which appeared to be from the film's first act. In it, Ryan arrives in Moscow where he is greeted by a massive but smiling Ugandan bodyguard played by 6'6" Game of Thrones' star Nonso Anozie.
(Spoilers ahead if you haven't read my previous piece.) But as soon as the pair reach Ryan's swanky hotel room, this bodyguard switches from friend to foe and uses a gun plus his incredible might to try to kill Ryan. However, having trained as a marine, the wily analyst manages to outsmart and outmaneuver his own personal Goliath. (End of spoilers.) It was a short scene, but one that sold the feature's action neatly, displaying inventive fight choreography, sharp editing, and a dedicated focus to the character development of Ryan throughout.
It's easy to see what attracted Branagh not only as an actor but as a director to this project. Jack Ryan: Shadow Recruit will be his directorial follow-up to the smash hit Thor from 2011. While it's unlikely this film will have Marvel-level numbers, the boost of IMAX should help Shadow Recruit make its mark on the box office when it opens in theaters on January 17th.
Staff writer at CinemaBlend.
Your Daily Blend of Entertainment News
Thank you for signing up to CinemaBlend. You will receive a verification email shortly.
There was a problem. Please refresh the page and try again.