Jake Gyllenhaal Will Be A Down And Out Gambler In Mississippi Grind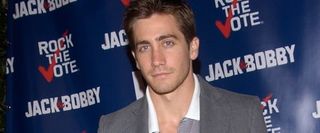 UPDATE: Gyllenhaal is only confirmed to produce the film, and is currently in talks to star. We apologize for the inconsistency. The corrected article is below.
With a role in the upcoming cop drama End of Watch (premiering at the Toronto Film Festival next month), and the low-budget sci-fi thriller Source Code as his most recent film, Jake Gyllenhaal seems to be making a successful turn back to indies, exactly what he needed after a string of high-profile flops like Love and Other Drugs and (ugh) Prince of Persia. Now he's off to another film that will be made on a dime (OK, under $10 million, which is not much by most standards), and working with the two directors who helped make Ryan Gosling a big name half a decade ago.
Anna Boden and Ryan Fleck, who directed Gosling to an Oscar nomination in Half Nelson and most recently made It's Kind of a Funny Story, are in talks with Gyllenhaal to star in Mississippi Grind, a drama about a down and out gambler who teams up with a younger man (Gyllenhaal) for a road trip across the South with dreams of recouping everything they've lost on bad bets. No actor is yet set to play the older gambler, but The Hollywood Reporter, which broke the story, calls it a "plum role for the forty something set," and Gyllenhaal's name attached could likely help another big name come on board.
Gyllenhaal isn't exactly who you'd automatically think of as a down on his luck gambler-- those eyes! those pretty eyes!-- but he's shown himself capable of a stretch when the role is right, and Boden and Fleck have a knack for getting strong performances from actors you didn't think had it in them-- even Emma Roberts was strong in It's Kind of a Funny Story, and it was the first time Zach Galifianakis revealed his range since he broke out with The Hangover. So if Gyllenhaal wants to keep pushing back the memory of Prince of Persia, he could do a lot worse than teaming up with these two.
(Gyllenhaal photo via Featureflash (opens in new tab) / Shutterstock.com (opens in new tab))
Staff Writer at CinemaBlend
Your Daily Blend of Entertainment News
Thank you for signing up to CinemaBlend. You will receive a verification email shortly.
There was a problem. Please refresh the page and try again.