Jake Gyllenhaal's Moon Movie Goes Through More Rewrites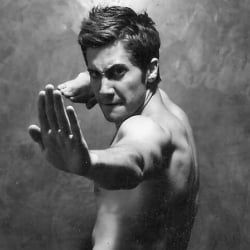 Jake Gyllenhaal is inching closer and closer to action movie stardom, and after Prince of Persia: Sands of Time he's lined up an untitled project about lunar colonization. The project has been in the works for a while, but now Black Hawk Down screenwriter Ken Nolan has been brought in to rework the script. Will he add more emphasis on Jake's baby blues? Take out some of those tasteless Brokeback Mountain jokes? Who knows!
The script has been through a long series of rewrites and writers, according to THR. Doug Liman is still producing and directing the film, but apparently the script he wrote with John Hamburg was scrapped by Mark Bowden, who wrote the original Black Hawk Down book. Then Dan Mazeau took at a pass at material that apparently had input from Simon Kinberg, a producer on the film.
A giant mess? Or enough great minds put together to make something good? Who knows at this point, though you've got to wonder about a project when it involves something so outlandish as lunar colonization. Gyllenhaal definitely has the potential to be a credible action star, but if this script is a mess, that won't exactly be a good way to start.
Staff Writer at CinemaBlend
Your Daily Blend of Entertainment News
Thank you for signing up to CinemaBlend. You will receive a verification email shortly.
There was a problem. Please refresh the page and try again.