Meryl Streep To Go Into The Woods With Rob Marshall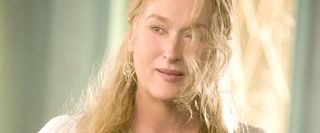 After taking to the high seas with Disney's Pirates of the Caribbean: On Stranger Tides, choreographer turned filmmaker Rob Marshall is reteaming with the studio for an ambitious adaptation of Stephen Sondheim's Broadway musical Into the Woods, which gives a twisted take on classic fairy tales from Little Red Riding Hood to Rapunzel and Jack and the Beanstalk. Having helmed the six-time Oscar-winning movie musical Chicago, it was safe to assume that Marshall's Into the Woods would draw some serious star power, but who would have guessed the first bit of casting news would include the grand dame of the Academy Awards, Meryl Streep.
Broadway World reports Streep is in talks to play the Witch, who ties into nearly every plot line. However, the stage and screen legend was unavailable for the run through of James Lapine's screenplay that Marshall held on Monday. In attendance for the read through was Nina Arianda as The Baker's Wife, Christine Baranski as the Stepmother, Tammy Blanchard as Florinda, Victoria Clark as Cinderella's Mother/Giant, James Corden as the Baker, David Garrison as the Narrator, Ivan Hernandez as the Wolf, Megan Hilty as Lucinda, Cheyenne Jackson as Rapunzel's Prince, Allison Janney as Jack's Mother, Anna Kendrick as Cinderella, Michael McGrath as the Steward/Baker's Father, Donna Murphy as the Witch, Laura Osnes as Rapunzel, Taylor Trensch as Jack, Casey Whyland as Little Red Riding Hood, and Patrick Wilson as Cinderella's Prince.
It's unknown how many of these performers are being considered for roles in the film, though obviously Murphy, who memorably voiced Mother Gothel in Disney's Tangled, would have to contend with Streep for her role. Still, there's plenty of remarkable talent straight from Broadway in the cast above, many of whom have also earned memorable movie and TV roles. Among the most notable, Arianda recently dazzled Broadway audiences in Venus in Fur and scored a small role in Woody Allen's Midnight in Paris. Baranski has appeared on Broadway for decades, and performed opposite Streep in the movie version of Mamma Mia. Jackson might be best recognized for his recurring role as Danny Baker on 30 Rock, but he's starred in a number of Broadway musicals, including the campy delight Xanadu. Janney is of course known best known for her work on The West Wing, but performed in the Broadway musical version of 9 to 5 in 2009. Hilty is among the stars of NBC's musical-drama Smash. Kendrick is currently showing movie audiences her singing skills in Pitch Perfect, and Watchmen's Wilson belted it out on Broadway in Oklahoma! and The Full Monty.
Into the Woods is said to be Marshall's next project, though a start date is currently unclear. Nonetheless, if his final cast looks anything like the lineup for his read through audiences should have something remarkable coming their way.
Staff writer at CinemaBlend.
Your Daily Blend of Entertainment News
Thank you for signing up to CinemaBlend. You will receive a verification email shortly.
There was a problem. Please refresh the page and try again.