James Dean Biopic To Be Directed By Anton Corbijn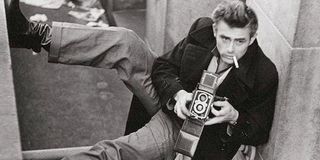 Dutch filmmaker Anton Corbijn is currently in post-production on his adaptation of the novel A Most Wanted Man, but already he has been lined up to direct a drama about another wanted man for See-Saw Films. THR reports Corbijn will helm Life, a biopic about the iconic matinee idol James Dean and the friendship he formed with Life magazine photographer Dennis Stock.
Stock was an up-and-coming photog when a gig for the Magnum agency changed the trajectory of his life. Asked to shoot an emerging and intense young actor called James Dean, Stock and the soon-to-be star connected. Their friendship can be charted through the photos taken over the course of their friendship, which included a road trip from Los Angeles to New York and Indiana. This trip occurred just before Dean was minted a star thanks to his heartbreaking turn in the 1955 drama East of Eden. Just a few months later, Dean's life was tragically cut short in a fatal car accident.
Corbijn seems like a good fit for this story of a friendship formed between two impossibly cool males. His last effort was the thoughtful spy thriller The American, which memorably starred George Clooney as an unruffled assassin. However, that project boasted a budget of $20 million, whereas Life is expected to come in between $10-15 million. So, it's unlikely See-Saw producers Iain Canning (The King's Speech, Shame) and Emile Sherman (Top of the Lake) will be shopping for A-listers to play their leads. But the cool factor could snag them some swaggering indie stars. With production expected to begin in early 2014, we should hear casting news soon.
Your Daily Blend of Entertainment News
Staff writer at CinemaBlend.
Your Daily Blend of Entertainment News
Thank you for signing up to CinemaBlend. You will receive a verification email shortly.
There was a problem. Please refresh the page and try again.