James Franco Isn't All Natural Down There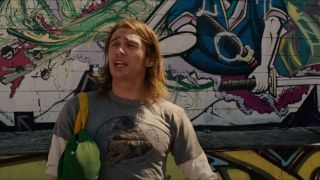 (Image credit: Columbia Pictures)
Though he's made a big splash with his hilarious role in the stoner comedy Pineapple Express, James Franco may get even more attention for his role in this fall's Milk. Franco will play Scott Smith, the lover of famous San Francisco politician Harvey Milk (Sean Penn) who was assassinated at the height of his political career. And even though it's a movie primarily about gay men's political lives, apparently there's plenty of time for some all-male nudity.
Flawed Hollywood reports that James Franco is telling the story of a long day shooting a nude pool scene, when apparently his god-given assets weren't quite enough. "I go over to Sean and I guess he didn't know that I was wearing a prosthetic," Franco said about approaching his co-star during filming. "I go, `Sean, you're such a great actor but you wouldn't do a scene like this if they asked you; you wouldn't dive into a pool naked.' And he said… `Well James, if I was built like you, I would.'
And it turns out, that wasn't even the last of the prosthetic penis adventures. Apparently there was another scene a few weeks later that required both actors to wear falsies, which was when Penn figured out Franco's well-endowed ruse. Milk comes out in December, and is expected by some to be a big contender in the Oscar race. It's just too bad Boogie Nights will still hold the record for "First Oscar-nominated film to feature prosthetic penises."
Staff Writer at CinemaBlend
Your Daily Blend of Entertainment News
Thank you for signing up to CinemaBlend. You will receive a verification email shortly.
There was a problem. Please refresh the page and try again.