James Gunn Answers Those Hulk/Guardians Of The Galaxy Rumors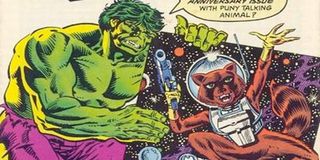 The rumors have already gone into overdrive. First they said the Hulk would return in a movie adaptation of "Planet Hulk". Undeterred, the rumor mongers then said "Planet Hulk" would become the Guardians Of The Galaxy sequel , with Mark Ruffalo sharing the screen with the likes of Chris Pratt and Groot. And now, with the film about to be released, director James Gunn can address the Hulk/Guardians rumor. And he says they're poppycock.
Speaking to Drew Taylor at The Playlist, Gunn completely washes his hands of a Guardians Of The Galaxy sequel featuring the Hulk.
...so you're saying it might not be true, James Gunn? Ok, just making sure, it sounded like you were leaving some doors open.
The cynic/conspiracy theorist would imply this means James Gunn is out of the loop regarding a Guardians Of The Galaxy 2, which isn't crazy. But really, if Guardians Of The Galaxy is the creative and financial success that people claim it is/will be, Marvel certainly might want to retain the services of Mr. Gunn, and allow him at least a little input on sequel plans.
Planet Hulk, for those who are still wondering, finds the Hulk landing on another planet after being shot off into space (a rumored Avengers: Age Of Ultron ending that has gained traction). He is slow to adjust, eventually being sold into slavery and becoming a gladiator who fights for his freedom. Planet Hulk is crazy cinematic, so you could see how it would make a great movie. It sort of already made a pretty good one, as Marvel adapted the story into a direct-to-DVD animated film.
But if they adapt that story, it's definitely one where Hulk is the lead, and the Guardians take a backseat. And Gunn's not having it: he just spent a couple of years with these actors, characters and raccoons, he's not going to sit by and let them play second fiddle to one dude.
Gunn does explain where the confusion comes from: in Guardians Of The Galaxy, Gunn features the Sakaaran, an alien race that figures prominently in the Planet Hulk story. But Gunn claims they're only meant to substitute for the Badoon, a race of aliens in the Marvel universe that belong to another studio (Fox, most likely). It does open the door to a potential Planet Hulk movie, but one that doesn't include Gunn or his homies.
So when will we see the Hulk fly solo again? Kevin Feige spoke to IGN and explained how Marvel uses their big green goliath.
In other words, one of the Avengers has to not have a solo movie to keep the lineup fresh. Sorry, Hawkeye. We still like you too.
Your Daily Blend of Entertainment News
Your Daily Blend of Entertainment News
Thank you for signing up to CinemaBlend. You will receive a verification email shortly.
There was a problem. Please refresh the page and try again.