James McAvoy Romances Jessica Chastain In The Disappearance Of Eleanor Rigby Trailer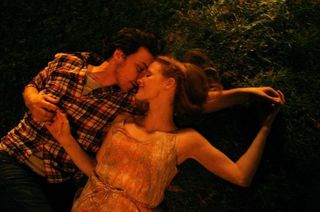 Every romance tells an elaborate story of the perspectives from two people. This is why romances are divided as "chick flicks" versus "made for men"', and never the twain shall meet. Writer-director Ned Benson upsets this balance with The Disappearance Of Eleanor Rigby , which just debuted its new trailer.
The road to this film's existence is fairly unusual. Benson debuted his directorial debut at Cannes this year in a wildly different form, splitting the movie into The Disappearance Of Eleanor Rigby: Him and The Disappearance Of Eleanor Rigby: Her - which are completely different films that will both gain arthouse releases through The Weinstein Company. But the studio is likely thinking Oscars with The Disappearance Of Eleanor Rigby, and as a means of raising the odds of that happening involves uniting the two films into one. The newly released official synopsis reads,
The trailer, which was released over on Yahoo! showcases the two lovebirds as well as an eclectic supporting cast including Oscar nominee Viola Davis, former Saturday Night Live cast member and all-around treasure Bill Hader, and the beautiful French cinema legend Isabelle Huppert. It also promises some heavy conflict that separates the two leads, and a difficult journey to reunite them. It's great to see these actors let loose in this way: McAvoy hopefully has as much chemistry with Chastain as he does with Michael Fassbender , and Chastain is fast becoming the most talented actress of her generation.
So what is this movie? And what makes them evoke the name of the classic Beatles song? The single came off the group's stylistically-daring Revolver and is considered an anthem for loneliness. Is Ms. Rigby depressed? Is Chastain even playing an Eleanor Rigby? This could revolve around the issue of depression, and whether Chastain's Rigby suffers from it while McAvoy struggles to understand it. The title doesn't bode well for them, admittedly. Regardless, this looks like a pretty intriguing, experimental film.
The Disappearance Of Eleanor Rigby opens September 26th.
Your Daily Blend of Entertainment News