Jared Harris To Play Ulysses S. Grant In Spielberg's Lincoln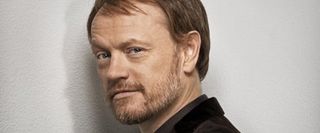 Lincoln, Spielberg's upcoming look at one of America's most beloved presidents, is proving to be surprisingly Brit-heavy. After casting Daniel Day-Lewis in the lead as Lincoln, now another top-tier role has gone to an actor from across the pond. Variety is reporting that Jared Harris, the son of the late and legendary Richard Harris, will play Ulysses S. Grant.
If you're a Mad Men fan, you'll recognize Harris as Lane Pryce, and he's also put in appearances on Fringe. Next month he'll be squaring off against Robert Downey Jr. as the villainous Professor Moriarty in Sherlock Holmes: Game of Shadows. He joins a star-heavy Lincoln cast that already includes Day-Lewis, Sally Field as Mary Todd Lincoln, Tommy Lee Jones, Joseph Gordon-Levitt, James Spader, Jackie Earle Haley, and Tim Blake Nelson.
Grant became one of the most successful of the Union's military commanders, and later served as the 18th President of the United States. We may or may not see Harris on the battlefield in Lincoln, however; the screenplay by Tony Kushner (Munich) is said to focus on "the political collision of Lincoln and the powerful men of his cabinet on the road to abolition and the end of the Civil War." Kushner is the latest of several writers to work on the script, which is based on the book Team of Rivals by Doris Kearns Goodwin.
Lincoln doesn't have an official release date nailed down yet, but IMDb lists it as tentatively targeting the holiday season in 2012, just in time for Oscar season.
Your Daily Blend of Entertainment News