Jason Reitman Explains Why Labor Day Failed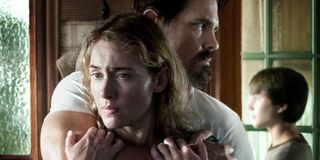 Jason Reitman has had a remarkable career. Since making his feature directorial debut in 2005 with the dark comedy Thank You For Smoking, this gifted writer-director has earned four Academy Award nominations, including a Best Picture nod for his 2010 effort Up In The Air. After a hot streak of hits and critical praise that also included Juno and Young Adult, Reitman's reputation took a serious hit with the lackluster 2013 drama Labor Day. And he knows exactly why.
While at the Toronto International Film Festival for the world premiere of his latest film Men, Women & Children, Jason Reitman sat down with Screen Crush. Amid talk of his new movie, they touched on his biggest failure. Reitman confessed that seeing Labor Day crash and burn with critics was "shitty as hell," adding "I was proud of my Tomato Rating." After some serious thought, Reitman believes he knows what went wrong with Labor Day. He explains:
When Labor Day was in pre-production, it looked great on paper. Jason Reitman was an Oscar-nominated auteur who was at the top of his game. The film was based on a novel, a setup that had served him well with Up In The Air and Thank You for Smoking. But Reitman ditched the edgy humor he's known for in favor of earnest drama. Still, this risk seemed well-calculated as he cast two heralded adult performers--Josh Brolin and Kate Winslet--to front the feature. But shortly after its Telluride Film Festival world premiere, the tide turned on Labor Day.
Peter Travers of Rolling Stone dismissed this drama as "romantic swill." Jonathan Romney of The UK's Observer seethed, "The initial Hitchcockian tension soon slackens into slop, with a dash of lukewarm eroticism." Our own Sean O'Connell admitted the film was undercooked but wrote, "It's a mature step for Reitman, away from the playful comedy of Juno and Smoking, and toward some deeper, emotionally ambitious exercises."
Paramount Pictures seemed to seal Labor Day's fate when they announced a January release date, which meant the movie would be ineligible for the 2014 Oscars, and highly unlikely to be remembered for the 2015 awards. Basically, even before the $18 million drama took in only $13 million domestic, it was a flop.
But in every life a little Labor Day must fall. And buzz on Jason Reitman's Men, Women & Children could bolster his Rotten Tomato rating once more. The drama about how technology impacts modern day sex and relationships won resounding buzz when its wordless first trailer hit. Out of TIFF, the reviews are mixed, but it's generally regarded to be a must-see for award season watchers and cinephile alike.
Men, Women & Children will open in time for Oscar consideration on October 17th.
Your Daily Blend of Entertainment News
Staff writer at CinemaBlend.