Sex, Silence and Adam Sandler Fill Jason Reitman's Men, Women & Children Teaser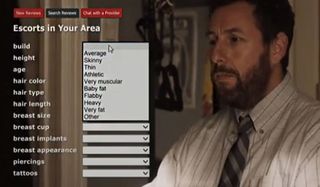 Have you ever been tempted to look at someone else's phone? Who do they text? What pictures do they save? What are they hiding? This modern quandary plays at the center of the teaser for Jason Reitman's upcoming drama Men, Women & Children. As its tag taunts, "Discover How Little You Know About The People You Know. "
Reitman hit theaters earlier this year with Labor Day, an adaptation of the Joyce Maynard novel. But despite goodwill earned with Juno and Up In The Air, and a cast that boasted Josh Brolin and Kate Winslet, this drama opened with a whimper, unimpressive box office and critical scorn. Could Men, Women & Children prove Jason Reitman's redemption?
Men, Women & Children reportedly will open in limited release on Oct. 3, going wider on Oct. 17. Like Up In The Air and Labor Day, Reitman's latest is based on a novel. In this case, it's Chad Klutgen's Men, Women & Children, adapted by Reitman and Erin Cressida Wilson, who previously translated a sexy Mary Gaitskill short story into the scintillating screenplay for the BDSM romance The Secretary.
As you can see in the trailer up top, Men, Women & Children will also deal in matters of illicit sex and desire. We first got word on Reitman's adaptation last fall, when his ensemble cast was revealed to include Adam Sandler, Jennifer Garner, Rosemarie DeWitt, and Cameron Diaz. Now, if you paid close attention to the trailer up top, you'll notice one of these stars didn't make the final cut. That'd be Diaz.
The next casting notice heralded the inclusion of critically adored character actress Judy Greer. In retrospect it seems Greer might have stepped into the role vacated by Diaz. In Men, Women & Children, there are a lot of deeply flawed figures, but Greer's is one sure to earn a lot of audience hatred. Playing Joan Clint, Greer will portray a mother who is strangely compelled to post provocative photos of her young daughter online. We get a peak at this disturbing hobby here:
Of course, Greer's woman is not the only character playing with fire. It looks like Rosemarie DeWitt is flirting with an affair, while her onscreen husband Adam Sandler is researching local prostitutes. Olivia Crocicchia and Ansel Elgort show how complicated teen sex has become in an age of smart phones.
Men, Women & Children will make its world premiere at the Toronto International Film Festival next month.
Your Daily Blend of Entertainment News
Staff writer at CinemaBlend.