Jennifer Garner, Judy Greer Anchor Jason Reitman's Men, Women And Children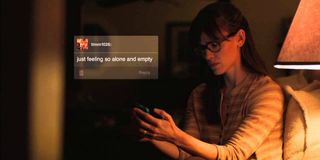 With all due respect to the male actors, I walked out of Jason Reitman's new Men, Women & Children in awe of the ladies… and its their stories that stick with me days later.
Men held its World Premiere tonight at the Toronto International Film Festival. If you have heard anything about Reitman's adaptation of Chad Kultgen's novel, you know that it's about "The Internet" (in a broad sense), and about how technology affects several members of a small Texas community. Reitman weaves through roughly 5 to 10 individual, horrifying stories which intersect as Men, Women & Children probes its subjects – sometimes deeply, sometimes superficially. He doesn't judge. He just observes, and waits for the audience to recognize and empathize with the characters of our choosing.
So why am I gravitating to the stories of three women? Because of the outstanding performances of Judy Greer, Jennifer Garner and Rosemarie DeWitt, all playing suburban wives and mothers with vastly different problems to bear. I don't necessarily relate to any of them. But I understand them, and I feel the pain they endure during Men, Women. Not because I've been in their shoes, but because the powerful actresses make me understand what it's like to be in their predicaments, the highs and lows of their individual journeys.
How do these women factor into Jason Reitman's equation? Jennifer Garner plays Patricia, a buttoned-up Conservative who fears the Internet and spends an inordinate amount of time going to great lengths to protect her daughter, Brandy (Kaitlyn Dever), from its evils. Rosemarie DeWitt plays Rachel, a bored housewife who actually adopts the screen name "Bored Housewife" when she begins to experiment with Ashley Madison – an online service that helps people conduct extramarital affairs. And in the movie's most heartbreaking sublplot, Judy Greer plays Joan, a failed actress and failing suburban mom who runs a questionably elicit Web site that sells pictures of Joan's teenage daughter, Hannah (Olivia Crocicchia) – who also dreams of stardom, celebrity and, most important, being recognized.
None of these stories reflect my own. Yet I connected with pieces of them. And in a sprawling ensemble of actors all fighting for screen time, these three women developed their characters quicker than most, with Greer really establishing a heartbreaking superficiality to Joan that stings when her blinders ultimately are removed.
Remember, Jason Reitman doesn't judge with Men, Women & Children. If there's a downside to the movie, it's that there is not central story providing a powerful throughline to which audiences can cling. Most of the stories reach a resolution, of sorts, but each plot honestly could continue along for the duration of another movie, and in most cases, you wouldn't complain.
To be honest, I still feel that Jason Reitman is at his best when he has a focused story to tell. The contemplative and engrossing Up in the Air, as an example, remains his high point (no pun intended). But the director seems content to linger on larger character studies in Men, Women & Children, capturing different types of people who are struggling to find their place in a tech-heavy time.
Reitman himself will tell you that Thank You For Smoking isn't about cigarettes, Juno isn't about teen pregnancy, and Men, Women & Children isn't about the Internet. All of those films are about people, and from where I was sitting, the women emerged at the end with the better stories to tell.
Sean O'Connell is a journalist and CinemaBlend's Managing Editor. He's frequently found on Twitter at @Sean_OConnell. ReelBlend cohost. A movie junkie who's Infatuated with comic-book films. Helped get the Snyder Cut released, then wrote a book about it.
Your Daily Blend of Entertainment News
Thank you for signing up to CinemaBlend. You will receive a verification email shortly.
There was a problem. Please refresh the page and try again.