Jason Schwartzman Dark Sundance Comedy 'Listen Up Philip' Finally Picked Up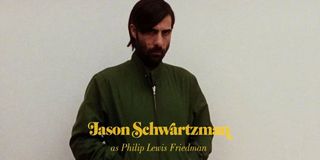 Jason Schwartzman has most memorably played muse to Wes Anderson, snagging key roles in Rushmore, The Darjeeling Limited, Fantastic Mr. Fox, Moonrise Kingdom and Anderson's latest The Grand Budapest Hotel. But last January he was earning rousing praise out of the Sundance Film Festival thanks to the dark comedy Listen Up Philip, written and directed by Alex Ross Perry. Surprisingly, this praised pic didn't land domestic distribution right out of Sundance, but it has now!
Tribeca Film has announced its acquirement of the North American distribution rights of Listen Up Philip. In the movie, Jason Schwartzman stars as Philip Lewis Friedman, an often frustrated novelist who is impatiently awaiting the release of his second book. The noise of his metropolis home is proving to be too much during this purgatory, and his photographer girlfriend (Elisabeth Moss) doesn't seem too fond of him anymore - fed up in part by his refusal to self-promote. So when Philip's idol (Jonathan Pryce) offers him some solitude and retreat in his summer house, he jumps at the chance. Just one problem: Zimmerman's hard-to-impress daughter (Krysten Ritter) has already laid claim to the place.
Listen Up Philip's cast also boasts Jess Weixler, Kate Lyn Sheil, Eric Bogosian, Dree Hemingway, and Daniel London.
Frustrated writer is a character type in which Jason Schwartzman has repeatedly shined, be it in Rushmore, The Darjeeling Limited or the HBO series Bored To Death. So, we expect great things out of him here. But Listen Up Philip could prove a major game changer for its writer-director, Alex Ross Perry. His previous efforts include Impolex and The Color Wheel, both of which are little known while Listen Up Philip has The New York Times' Manohla Dargis cheering, that the movie is "a great leap forward for Alex Ross Perry. Assured and at times dazzling."
Get a taste of what all the rave reviews are about with Listen Up Philip's Sundance teaser trailer below.
Listen Up Philip will open theatrically on October 17th. A VOD release will follow on October 21st.
Staff writer at CinemaBlend.
Your Daily Blend of Entertainment News
Thank you for signing up to CinemaBlend. You will receive a verification email shortly.
There was a problem. Please refresh the page and try again.