Jason Statham To Tone It Down In Safe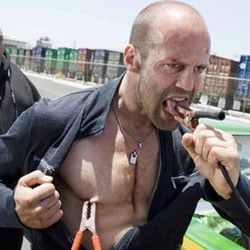 Jason Statham can do more than wield a gun, kick some ass and recharge his batteries with jumper cables and he wants to prove it to you. As reported by the LA Times, Statham is joining forces with producer Lawrence Bender and director Boaz Yakin for Safe. The film lets Statham remain in thriller territory, but will inevitably test his range.
Statham has built his career with heavy actioners including the Crank films, the Transporter series and Death Race, but his collaborators on Safe have dabbled in wholly different areas of filmmaking. Yakin's most notable accomplishments are Uptown Girls and Remember the Titans. I guess Remember the Titans has some combative moments, but a football game can't quite compare to a race around the track on Terminal Island. Bender, on the other hand, has a few things on his resume packed with violent and exhilarating moments. He's worked alongside Quentin Tarantino for quite a while, having produced just about everything from Inglorious Basterds to Pulp Fiction, so Bender has some action up his sleeve, but with a more off kilter styling as compared to Statham's.
Unfortunately the article doesn't offer any plot details, so it's impossible to know how artsy this one well get. It'd be interesting to see Safe take Statham way out of his comfort zone. The film does fall under the thriller category, but Yakin and Bender's involvement has to mean this one has a little something more to it. Safe will join John Cusack's The Factory and a Kevin Costner film on IM Global's list of project to sell on the Cannes market.
Your Daily Blend of Entertainment News
Staff Writer for CinemaBlend.