Jensen Ackles Wanted For Resident Evil 4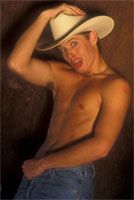 Jensen Ackles, star of the surprisingly popular CW show "Supernatural" and Dallas native, is in contention for a lead role in the upcoming fourth Resident Evil movie according to the creatively named site Movies Online.
Of course you're probably wondering what happened to the third one. So far we've only seen two installments in the videogame spawned Zombie franchise. The third one is due out in 2007, and Sony's Screen Gems division isn't waiting around to see if anyone likes it. They're already pushing ahead on the fourth one (currently titled Resident Evil: Afterlife, and plan to start shooting it next year.
If he gets the part, Ackles will play a guy named Leon Kennedy. Fans of the games on which the movie are based probably recognize the name, and I'm told by friends who play it that Ackles might be a good match for the character.
Jensen's next project outside the CW will be the movie Ten Inch Hero. It's a teen sex comedy so yes, maybe the name really does mean what you're thinking. Cool it ladies, it's fantasy, not reality.
Your Daily Blend of Entertainment News