Jeremy Renner May Play A Legendary Boxer In His Next Movie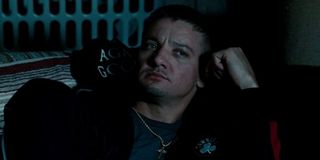 Hollywood loves few things more than a good boxing movie. When Sylvester Stallone brought Rocky to the silver screen back in 1976, he proved that the sport was ripe for all the drama necessary for an Oscar winning movie – a notion only reaffirmed by Robert DeNiro's take on Jake LaMotta in 1980. Despite the multitude of iconic boxers who have been broached by the film industry, few actors have ever taken on the role of one of the most iconic boxers of all time. Now Jeremy Renner will endeavor to do just that by lacing up the gloves of Rocky Marciano.
A new report from THR indicates that Renner is slated to portray legendary boxer Rocky Marciano in a new biopic chronicling the fighter's life. The report states that the film will follow the life of the iconic boxer from his earliest years all the way until his untimely death in a plane crash in 1969.
Marciano's legacy continues to live on to this very day; with a 49-0 record, he is the only heavyweight champion with a completely undefeated career. The real life figure even provided the inspiration for fictional boxing legend Rocky Balboa, who idolized Marciano throughout his films. Jon Favreau took on the role of Marciano in 1999 for a TV movie simply titled Rocky Marciano, but it never received much – if any – critical acclaim, leaving the topic of Marciano's life a wholly underexplored area for sports films.
There is little doubt that Jeremy Renner has the physicality to step into the ring. Between his role as Hawkeye in the Marvel Cinematic Universe, his brief stint as the face of the Bourne franchise, and his work in the Mission: Impossible series, the man clearly knows his way around a fight scene. Beyond that, his work in films like The Town as well as The Hurt Locker have affirmed his ability to tackle drama like a true champion. On top of all of that, we have to say Renner definitely bears an uncanny resemblance to the late boxing great.
Boxing movies have become something of a rite of passage for Hollywood actors. From DeNiro in Raging Bull, to Will Smith in Ali, and Michael B. Jordan in the recent Rocky spin-off Creed, actors have long looked to boxing films as a way to stretch their chops. These roles not only allow them to push their physical limits but also often allow them to give Oscar worthy performances by inhabiting the tumultuous lives of these iconic fighters.
We will bring you more information on the upcoming Rocky Marciano biopic as it becomes available. Between now and then you can watch Jeremy Renner partake in a different sort of fight when Captain America: Civil War hits theaters on May 6, 2016.
Originally from Connecticut, Conner grew up in San Diego and graduated from Chapman University in 2014. He now lives in Los Angeles working in and around the entertainment industry and can mostly be found binging horror movies and chugging coffee.
Your Daily Blend of Entertainment News
Thank you for signing up to CinemaBlend. You will receive a verification email shortly.
There was a problem. Please refresh the page and try again.