Jesse Eisenberg To See Double With Submarine Director Richard Ayoade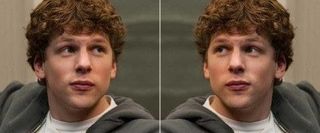 Jesse Eisenberg seemed vaguely uncomfortable the entire time he went through the publicity and hand-shaking rounds for The Social Network, and it was hard to blame him-- not only does the guy really not seem to enjoy being out in public as himself, but he was getting a huge amount of praise for playing Mark Zuckerberg, a role he told the press wasn't even his most impressive performance. And since his Best Actor nomination last year, Eisenberg has seemed committed to keeping up his eclectic string of roles, starting with next week's raunchy comedy 30 Minutes or Less, leading into a role in the Rome-set Woody Allen comedy Bop Decameron that's shooting right now, and soon to take him toward Russian master novelist Fyodor Dostoyevsky.
OK, if the news at Vulture linking Eisenberg and the author of Crime & Punishment doesn't appeal to you, how about this: the adaptation of Dostoyevsky's The Double that Eisenberg has signed on to is directed by Richard Ayoade, the actor and writer known from British TV shows The Mighty Boosh and The IT Crowd who made his feature directing debut with this year's Submarine. Whether you know Ayoade from his comedy work or from his beautiful, heartfelt and very funny coming-of-age film Submarine, you know the guy is a talent to reckon with, and a good match for Eisenberg, who seems to have a knack for sussing out up-and-coming genius (see: Zombieland director Ruben Fleischer, The Squid and the Whale director Noah Baumbach, Adventureland director Greg Mottola, etc.).
In The Double, Eisenberg will play a man whose life begins to fall apart when his doppelganger-- a man who looks like him, shares his name and hometown, and appears to be attempting to take over his life. You've probably already guessed that the novella was a likely inspiration for Black Swan, as well as pretty much any other story about an evil twin. Eisenberg will play both characters, of course, which sounds like a huge challenge-- and maybe even a bigger challenge than playing Mark Zuckerberg, which Eisenberg seemed to think was no big deal. Maybe all along he was jealous of Armie Hammer getting to play two people, and now he's finally gotten his chance.
Your Daily Blend of Entertainment News
Staff Writer at CinemaBlend