Jesse Eisenberg Starring In Story Of Murder And Poetry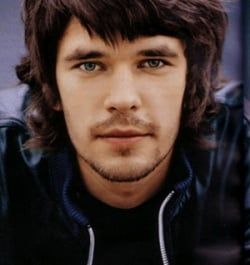 James Franco is currently filming Howl, playing Beat poet Allen Ginsberg, but there's already a younger kid in town trying to show him up. That's probably not how Jesse Eisenberg thinks of his new role as Ginsberg in Kill Your Darlings, but you know us members of the media, always trying to cook up a scandal.
Darlings, which also features Chris Evans and Ben Whishaw, is about Beat poets Ginsberg, Jack Keourac and William S. Burroughs in their younger years, when they all met in New York City. Variety's article mentions that the movie will be about a murder that "helped spawn the Beat Generation," and a little Wikipedia searching led me to what looks like the makings of a really fascinating story.
Whishaw will play Lucien Carr, a Columbia University student who managed to introduce Kerouac, Burroughs and Ginsberg to one another in World War II-era New York. During this time Carr was also being stalked by a troubled young man named David Kammerer, a role that has not yet been cast. One night Kammerer and Carr when in Riverside Park together when Kammerer attacked Carr, and Carr stabbed the other man and threw his body into the river. Carr served two years in prison and plead guilty to first-degree manslaughter.
The story has all kind of fascinating elements, from the weird homophobic undertones of Carr's lax prison sentence to the fact that all this crazy stuff led to the formation of some of the greatest writers of the era. Whishaw has already proven himself in movies like Perfume to be a powerful dramatic actor, but it'll be interesting to see what Eisenberg and Evans do with these big roles. Newcomer John Krokidas is directing, and I hope he realizes what a fantastic story he has on his hands for his directorial debut.
Your Daily Blend of Entertainment News
Staff Writer at CinemaBlend