Jessica Biel Helps Marry Chuck And Larry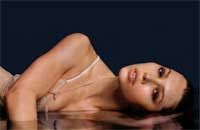 Jessica Biel is set to add a little hetero sex-appeal to the upcoming guy on guy Adam Sandler comedy I Now Pronounce You Chuck and Larry. The movie's been slow to get going, but it hasn't dropped off the radar.
The film stars Adam Sandler and Kevin James as two heterosexual firefighters who fake gay in order to snag domestic partnership benefits. What do you know, crazy Pat Robertson was right! Domestic partnerships will raise our insurance rates. Jessica Biel will play the movie's female lead, an attorney who helps the two gay-for-pay leads pull off their homosexuality.
The Hollywood Reporter says Chuck and Larry will start production on August 31st with Benchwarmers director Dennis Dugan at the helm. James and Sandler can be pretty funny, but are they funny enough to overcome the guy who made America hate John Heder? Maybe not.
Look for Jessica Biel next in the Edward Norton magician movie The Illusionist, out in just a few weeks.
Your Daily Blend of Entertainment News