Joe Carnahan Says We Won't See An A-Team Sequel, But There Could Be A Narc 2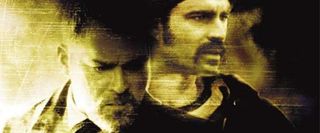 Thanks to movies like Smokin Aces and The A-Team, Joe Carnahan's career took kind of a weird turn over the last six years, but with The Grey he's finally back to his roots. The gritty survivalist drama is the best movie that he's done in years, dating back to the film that really launched his career: 2002's Narc. Not only are critics starting to learn this, as critics screenings of The Grey play to applause around the country in anticipation of the film's release next week, but it seems to have triggered something in Carnahan as well. It would seem that he's ready to reevaluate his career, getting away from the more light-hearted stuff and getting back to where it began. That could very well continue with Narc 2.
In an interview with the filmmaker, Moviehole learned that Carnahan is seriously considering making a sequel to Narc and has even gone as far as to have discussions with his actors about it. "I was talking to Ray Liotta the other night about a Narc sequel," Carnahan said "I told him the opening…if I could do that movie for like ten million bucks and not be bothered and be left to do my thing I would do it in a second. Creative control means more to me than having my name on a big-budget thing." The first film, which played to positive reviews when it was first released, only made $12 million at the international box office, but considering that it was made for only $6.5 million, it actually turned a nice profit.
In the same conversation, though, the filmmaker also said he was happy that The A-Team didn't do better at the box office, as it would have forced him into a world he doesn't necessarily want to be in. Said Carnahan, "I don't want to get tied up in that whole world of sequels and franchises. There's too many movies I want to make." Going further, he said that if the first film had been more successful, he probably would have been working on The A-Team 2 instead of The Grey. "That would have been a bigger bummer to me," he said.
While it is a bit strange that Carnahan would talk about not wanting to be stuck in a world of sequels, only to say that he would be interested in a Narc 2, the real point is that he wants to make movies that he has control over. If The A-Team had made more money the studio would have taken total control and would have judged every move Carnahan made going forward. Narc 2 could be a nice small project that the filmmaker would have total control over. Whether or not it will ever come to pass is still a mystery, but for the sake of Carnahan's career let's hope so.
Assistant Managing Editor
NJ native who calls LA home and lives in a Dreamatorium. A decade-plus CinemaBlend veteran who is endlessly enthusiastic about the career he's dreamt of since seventh grade.
Your Daily Blend of Entertainment News
Thank you for signing up to CinemaBlend. You will receive a verification email shortly.
There was a problem. Please refresh the page and try again.