Joel And Nash Edgerton To Adapt Lucky Short Into Feature Film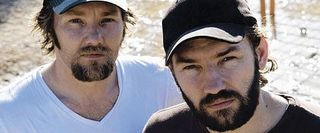 You may know Aussie actor Joel Edgerton from his breakthrough role in the gritty, Oscar-nominated drama Animal Kingdom, or as the burly Kurt Russell stand-in of 2011's The Thing remake. But chances are you know nothing about Nash Edgerton. Older brother to Joel, Nash has established a far more prolific career in film, appearing predominantly as a stunt man on such action-packed efforts as The Matrix, Superman Returns, and Knight and Day. Yet Nash's passion for movies extends beyond fight choreography and intricate stunt setups; he's also the writer, director, editor and star of a string of short films, as well as the 2008 Australian feature The Square. And now mUmbrella reveals Nash and Joel will be teaming up to transform one of these shorts, titled Lucky, into a thrill-packed drama presently called The Untitled Lucky Project.
Little is known about full-length feature at present, but Nash himself starred in the original short, playing a man named Lucky who has nothing but bad luck. You can check out the short below:
While Lucky promises its feature adaptation will showcase plenty of action, there's little plot revealed above and details on the in-development project are presently under wraps. However, we do know the Edgerton brothers are writing the script and Nash is set to direct and produce, though no mention is made of him starring. Perhaps he'll step aside and let his famous younger brother take the wheel as it were? Having secured at least partial financing through Screen Australia's latest round of single-project feature development, The Untitled Lucky Project is working out those details, and hopefully cast announcements will follow soon.
Staff writer at CinemaBlend.
Your Daily Blend of Entertainment News
Thank you for signing up to CinemaBlend. You will receive a verification email shortly.
There was a problem. Please refresh the page and try again.