John Cusack And Johnny Knoxville Teaming Up For Carnaval Comedy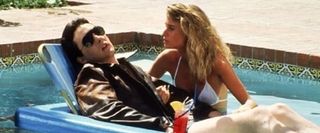 John Cusack and Johnny Knoxville are two people I would never expect to see listed together, unless it was on a list of People I Would Never Expect to See Listed Together. Nevertheless, the unlikely has become reality, because THR says the pair have both signed on for Carnaval, a new comedy to be directed by Josh Stern.
As the title suggests, Carnaval will be set amidst Rio de Janeiro's annual epic festival. Cusack will play a sports agent who is sent to Rio to try and sign an incredibly talented local soccer player. He's got a lot on the line: if he makes the deal, he will inherit the entire agency for which he works. Knoxville will play a friend of Cusack's character who tags along for the ride, then winds up unwittingly boning the soccer star's girlfriend. Shouldn't be a problem, right? What happens in Carnaval, stays in Carnaval.
The script was originally written by a dude named David Styne, himself a former agent. Clearly Styne subscribes to the "write what you know" philosophy. Director Stern then came along and did a rewrite pass on the script. Those guys should totally form a law firm. "Styne and Stern: A Name You Can Trust."
The core concept is pretty basic, but the dynamic between Cusack and Knoxville could be fun. Also, Carnaval will be shooting this January in Rio de Janeiro, so it should have some great scenery if nothing else. Of course, if The Hangover Part II proved anything, it's that exotic locales won't make up for an underwhelming script. We'll just have to wait and see.