John Malkovich Needs Another Pig, RED Sequel Plans To Bring Back Cast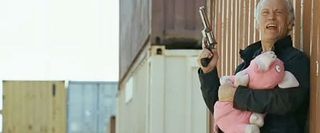 Bruce Willis's retired hitman movie RED was a lot more fun that expected, due in no small part to a scene stealing performance from John Malkovich, and it did surprisingly well at the box office too. I suspect its solid earnings may have something to do with elderly people showing up to see people their own age kick ass. "RED" stands for Retired and Extremely Dangerous, and when I showed up to see the movie a couple of weeks into its theatrical run I was by far the youngest person in its audience.
Old people love to see their peers shooting younger people in the head, apparently, so Summit Entertainment is churning out a sequel. MTV caught up with RED producer Lorenzo di Bonaventura who offered an update on what it'll be all about. They plan to bring back the previous cast, which means you should expect to see Bruce Willis, Helen Mirren, and John Malkovich back and packing heat at the least. I guess they'll likely bring back Mary Louise Parker too. But di Bonaventura also says they want to "freshen" the cast up, which means adding new faces into the mix. He says, "We'll bring in one or two characters that'll play a really big part — maybe three, but definitely one or two."
Once they work out the math, they'll still keep the focus on the original movie's primary characters. Lorenzo explains, "Sometimes there's a tendency to want to do too much of a good thing so you don't really service anything, so we're really trying to stay focused on our core crew with one or two new additions."
So what'll it be about? He's not talking, I guess they'll have to find some way to drag everyone out of retirement, yet again. John Malkovich is going to need another pig.
Your Daily Blend of Entertainment News
Thank you for signing up to CinemaBlend. You will receive a verification email shortly.
There was a problem. Please refresh the page and try again.