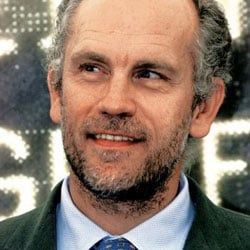 Will Ferrell has to be the first choice, right? To replace John C. Reilly in ANY movie? The two guys are pretty damn close to interchangeable at this point, considering Reilly has ignored his dramatic tendencies for the past couple of years. The producers of the upcoming Red don't seem to agree, as they've gone in a completely different direction when recasting John C. Reilly's role: John Malkovich.
According to THR, Malkovich will replace Reilly (who stepped aside a couple of weeks ago) in Red, an adaptation of the DC Comics mini-series. The flick stars Bruce Willis as an aging black ops agent who must take on younger agents who are out to get him. Malkovich will be play a contemporary of Willis' who joins in his plan to kills those sent to kill him.
It would have been nice to see John C. Reilly attempt a role like this, playing along side Bruce Willis in a bigger action film. I don't think we've seen Reilly's potential met yet, and the more he chooses comedy over anything else, the further we get from ever seeing that potential met. Still, Malkovich never disappoints, and there's something too beautifully odd to ignore about a Willis and Malkovich pairing.
Your Daily Blend of Entertainment News