John Wayne's Star Trek Premonition And 10 More Things We Learned From To Be Takei's Transatlantic Premiere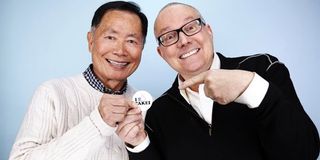 There are some days where my job doesn't sound real. One of these days was the Monday I was asked to join George Takei on the Queen Mary 2 for the Transatlantic Premiere of his new documentary To Be Takei. Bused to Brooklyn, I boarded an ocean liner that's longer than the block I live on, more stories than the apartment building I live in, and more luxurious than any hotel I've ever stayed in. It was an appropriately grand venue for a documentary meant to encapsulate the remarkable life story of George Takei, a man whose had a massive impact not only on pop culture but also on politics.
After cocktails and canapés, I was directed toward an ornate and cavernous theater. (Full Disclosure: the boat was so big I got lost, and repeatedly had to ask dedicatedly grinning crewman to point me in the right direction.) Amid all the finery of Queen Mary 2, I enjoyed To Be Takei, which was afterwards complimented with a Q&A with the film's director Jennifer M. Kroot, and its stars George Takei, and his husband Brad Takei né Altman. The fruits of this fantastic event are below.
To Be Takei isn't only about George Takei. It's also very much about his husband Brad. I spoke with Brad before the film screened, and he confessed he thinks of the title as having a "double meaning," in that it applies to him too. After all, he has taken George's last name following their 2008 wedding. George seemed to concur, introducing the film as "the story of our lives…there's a guy named Brad Takei who shamelessly steals the movie from me." It's an overstatement to say this beloved celeb is overshadowed by his witty partner, but not by much!
There's no love lost between William Shatner and George Takei. They did three seasons of Star Trek together and six films, but while Takei grew close to the rest of his Starfleet crew, Shatner never warmed to him. Things came to a boil when Shatner publically complained he wasn't invited to Takei's wedding. Takei still insists he was invited.
New interviews with Shatner and his old colleagues Nichelle Nichols, Leonard Nimoy, and Walter Koenig give a deeper look into this conflict. For Takei, Shatner's claim boiled down to publicity. He said in the Q&A, "I think that's why he made a big fuss about not getting an invitation two months after the wedding (to promote his talk show Raw Nerve). I mean, that's clearly irrational, but as you saw, we had all of the surviving Star Trek cast members in the film, and Bill is there. We're a family and like so many families, we have our eccentric crazy uncle, you know, and our crazy uncle shows up when we have these gatherings and as Nichelle says (in To Be Takei), 'That's our Bill.'"
Takei was born this way, meaning an actor. Recounting his deep need to perform from an early age, George declares in the doc, "You are born an actor." His loving father urged him not to go into show business, pointing out how hard it would be as an Asian-American, a group not very well represented in TV or film. George told him, "Daddy I'm going to change it!"
Changing it wasn't easy. While Sulu went on to become a role model for many Asian-Americans, Takei sometimes struggled, taking offensive roles to further his career. His first gig ever was providing voices for the American overdub of Rodan. And later he played racist Asian stereotypes in two Jerry Lewis movies, The Big Mouth and Which Way to the Front? He was convinced to do this duo by an Asian-American agent, who believed Lewis's vehicles could mean mainstream exposure for Takei. However, he regrets taking these roles, and thinks they did little to help his career.
George would be happy to jump on Marvel's voicework train. James Spader, Paul Bettany, Vin Diesel and Bradley Cooper have all gotten to join the Marvel Cinematic Universe as voice actors. Takei has done voice work on Marvel cartoon series like Ultimate Spider-Man and The Super Hero Squad Show. And he'd be game to take his iconic timbre to the big screen, "I would love to be a superhero."
John Wayne promoted Sulu before Starfleet did. George Takei worked with John Wayne in the 1968 war drama The Green Berets. On set, the iconic cowboy gave Takei the nickname "Captain Sulu." The Star Trek star pointed out Sulu was a lieutenant, not a captain. But Wayne stuck to the nickname because Takei played a captain in The Green Berets. Sulu's onscreen promotion came in 1991 with Star Trek VI: The Undiscovered Country.
Don't call being gay "a lifestyle," or else George will be quick to correct you. It might sound like semantics, but even to his husband Brad, George is quick to point out that the word "lifestyle" implies a choice was made, rather than "orientation" being a matter of genetics. George remembers realizing his own orientation when he was in 5th or 6th grade. Then he fondly recounts his first gay experience as a teenager, calling it "delicious and terrifying."
Takei understands that coming out publically isn't for everyone. In the film, George Takei speaks candidly about how he felt his coming out could contribute to the gay rights movement. But asked at the Q&A about closeted celebs, he offered understanding, "I know that coming out is a very difficult and a very personal process. I respect everyone's decision on coming out. However, we appreciate everyone who can make that move, has the courage to come out, because it helps enormously. As Dan Savage said in the film, every person that's out helps normalize it, because we are diverse. There are bankers that are gay. We're discovering professional athletes, basketball players, football players that are gay. I mean, very macho images there, and the more diverse the gay population, LGBT population is understood to be, then equality for the LGBT community becomes that much more doable and rational. It becomes sensible fair thing to do." He concluded, "So, we appreciate people coming out, but I don't urge people or I don't force people or certainly not out people. They have to make the decisions themselves."
Allegiance was made because of sheer co-incidence George Takei was considering making a musical that would depict what the internment of Japanese-Americans must have been like for his father. The perfect pair of collaborators happened upon him twice in two days. Jay Kuo and Lorenzo Thione met George and Brad Takei first by chance at a restaurant, after the Star Trek star's signature voice made them turn. Then the very next day, the foursome were unexpectedly reunited on Broadway, seeing the show In the Heights. A conversation about the song "Useless," spurred a collaboration that had Kuo and Thione writing Allegiance, with George Takei set to star.
Allegiance is coming to Broadway. It's just a matter of when. The musical made its world premier in the fall of 2012 in San Diego's The Old Globe Theater, where it was a smash hit, breaking a 77-year record for attendance and box office. Takei and Thione are dedicated to bringing the show to Broadway, but finding a theater has been a major obstacle. But they are so certain they will find a venue that you can purchase a place in line to buy eventual Broadway tickets to Allegiance now. Thione told us, "We're just waiting for our spot in line, because as George said, there has been an unprecedented demand for real estate on Broadway and there have been so many shows that have been waiting in the wings for many years. So, it's a matter of maybe hopefully a few more months and we'll be happy to announce our dates then."
George Takei believes in America, democracy, and freedom for all. He declared, "We live in a democracy. When I was curious about my childhood incarceration and I engaged my father in long discussions, he explained our democracy to me as a people's democracy. He said, 'It can be as great as the people can be, but it's also as fallible as people are.' Our democracy is vitally dependent on the citizens actively engaging in the process of democracy, bringing support to those people that cherish the ideals of our democracy and trying to improve our democracy. We started out with great ideals. Fallible human beings along the way have failed, but also have done amazing things.
You know, when the nation was founded, women had no rights, couldn't own property, couldn't vote, didn't have rights over their own children, and yet because they actively engaged in the democratic process, debated and marched and advocated for equality, today women are in so many leadership positions. They're secretaries of state. They're corporate presidents. They're astronauts that lead teams of male astronauts into space.
It can happen in our democracy and I hope seeing this documentary overall, the internment story is important to me, to get marriage equality seen as something that everybody should have, that protection and the responsibility. But this all comes through our democracy…Active participation in our democracy is vital and our democracy is dependent on that … We've got to make it equal for everybody to have free speech and free access to vote. So, that's a message overall I hope that comes off."
To Be Takei opens August 22nd.
Your Daily Blend of Entertainment News
Staff writer at CinemaBlend.