Johnny Depp's Hand Injury Causing More Problems For Pirates Of The Caribbean 5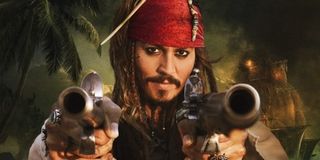 There have been a number of delays already on Pirates of the Caribbean 5, which bears the extensive full name Pirates of the Caribbean: Dead Men Tell No Tales. They've encountered problems with the script, scheduling issues among the large cast, and now an injury to star Johnny Depp's hand has delayed things even further.
According to The Hollywood Reporter, production has been halted until April 15 after Depp left to return to the U.S. for hand surgery. He injured his finger in an off-set incident early in March and had to have a pin inserted, which sounds unpleasant. Initially, the official word from production was that the wound would only have "minimal impact" on filming, and that the production would be delayed no more than two weeks. The break is now being extended to four weeks.
Johnny Depp departed on March 10, and for a while they kept filming in his absence, but now it looks like they've exhausted most of what they can do without him around. That makes sense considering his character, the scurvy dog Captain Jack Sparrow, is in damn near every scene in the entire franchise. It's hard to work around that sort of ubiquity. Dead Men Tell No Tales is the biggest film production ever mounted in Australia, and now more than half of the 400 person crew toiling away on the Gold Coast has been told that there is no more work until Depp returns. But don't worry for them too much, as there are still 14 more weeks of shooting scheduled, so hopefully they'll be able to make up any lost income over that span.
Directed by Espen Sandberg and Joachim Rønning (Kon-Tiki), the latest installment of the billion-dollar-plus franchise finds a down-on-his-luck Jack embarking on a fresh, new adventure. His old enemy—he certainly has no shortage of those—the vicious Captain Salazar (Javier Bardem), escapes from the Devil's Triangle and embarks on a mission to kill every rival pirate out there, and probably some other folks who get in his way, as well. Jack's only hope of survival is to find the mythical Trident of Poseidon, which gives whoever wields it total control over the seas. That might be a wee bit too much power for a scoundrel like Jack to have in his hands, but we'll have to wait and see about that.
Geoffrey Rush reprises his role as Barbosa, Stephen Graham is back as Scrum, and the series welcomes newcomers Kaya Scodelario (The Maze Runner) and Brenton Twaites (Maleficent) to the party. With a bit of luck and favorable winds, Pirates of the Caribbean: Dead Men Tell No Tales should still hit its July 7, 2017 release date, even with the delays and Johnny Depp's injured finger.
Your Daily Blend of Entertainment News
Thank you for signing up to CinemaBlend. You will receive a verification email shortly.
There was a problem. Please refresh the page and try again.